World Financial Group is a life insurance group that also performs various other financial duties.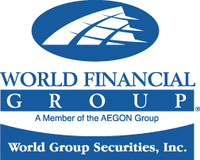 World Financial Group debuted at Atlanta Motor Speedway in October 2004, featured on the cars driven by Carl Edwards. The scheme returned in 2004 at Darlington Speedway. It is featured in Nascar 06 only.
Edwards ran the car in four more races in 2005, before switching over as co-primary sponsor in 2006 in the Busch Series effort.
World Financial Group debuted on Edwards' Busch Series Ford in 2005, running first at Phoenix. The car (#60) ran in two more Busch races in 2005.
In 2006, World Financial Group announced that it was teaming up with Stonebridge Life Insurance to sponsor rookie Danny O'Quinn's #50 Ford. WFG sponsored the car in twenty races in 2006. Now it sponsers Carl Edwards #60 Car with Valvoline, Scotts, Fastenal, and Colbalt.
World Financial Group ran fifteen races in 2006 as Todd Kluever's primary sponsor, splitting the deal with Shell Rotella T in the #50 Ford.