Roush Fenway Racing (formerly Roush Racing) is a racing team competing in NASCAR's Monster Energy Cup Series and Xfinity Series. In the Monster Energy Cup Series, the team fields the #6 AdvoCare Ford full-time for Trevor Bayne, and the #17 Fastenal Ford full-time for Ricky Stenhouse, Jr.. In the Xfinity Series, the team fields the #16 Lilly Diabetes Ford full-time for Ryan Reed, and the #60 Ford part-time for Ty Majeski.
Founded in 1988, the company was originally a small branch of co-owner Jack Roush's successful automotive engineering and road-racing equipment business based in Livonia, Michigan. The NASCAR operation, based in Concord, North Carolina, has since become the cornerstone and centerpiece of the company, winning back to back Nextel Cup Championships in 2003 with driver Matt Kenseth and 2004 with driver Kurt Busch. With Carl Edwards' win in the 2007 Dodge Dealers 400 at Dover International Speedway, Roush Fenway Racing had compiled 100 victories in NASCAR's Cup series.
Since its inception, Roush has competed exclusively in Ford brand automobiles. Currently, the Ford Fusion competes in the Monster Energy Cup Series and Xfinity Series.
Sprint Cup
Edit

Roush Fenway Racing operates the largest Sprint Cup Series operation of any team, featuring five full-time teams and one part-time team. Founded in 1988, the program is built around having five cars. The multi-team aspect of the company allows for information and resources to be shared across the enterprise, improving the performance of all of the teams. However, this is scheduled to change in the future, as NASCAR has proposed a new four-car limit for each team. Since the 2004 season, engines for the cars have been provided by Roush-Yates Engines, a partnership between Roush Fenway Racing and Yates Racing.
Car #06 history
Edit
The 06 attempted eleven races during the 2006 season to prepare Roush Racing's development drivers for future Cup careers. Todd Kluever was originally the sole driver, but was replaced with David Ragan for five out of eleven races. The team debuted with Kluever behind the wheel at Chicagoland Speedway on July 9 with sponsorship from 3M. Kluever also drove the car at Michigan International Speedway, Kansas Speedway, Lowe's Motor Speedway, and attempted to start races at California Speedway, Phoenix International Raceway, and Homestead-Miami Speedway. David Ragan ran the #06 at Dover International Speedway in September 2006 and Martinsville Speedway, and missed the second 2006 race at Texas Motor Speedway.
Car #6 history
Edit
The 6 car began as Roush Racing's original foray into NASCAR. With a debut at the 1988 Daytona 500 as the #6 Stroh's Light Ford, short track driver Mark Martin at the wheel, the team finished 41st after experiencing an engine failure after 19 laps. However, performance quickly improved, with Martin winning a pole position later in the season and achieving ten top ten finishes. With a year of experience under their belt, Roush and Martin went on a tear in 1989, winning six poles, earning eighteen top-10 finishes and winning for the first time at North Carolina Speedway. The team finished third place in championship points.
Garnering new sponsorship from Folgers in 1990, Martin won three each of races and pole positions, as well as finishing in the top 10 in all but six races. Martin held the points lead for a majority of the season, but lost momentum in the final races. In the end, the team lost the championship to Dale Earnhardt by 26 points. Interestingly, Martin would have won the championship had he not been docked 46 points in the second race of the season following a rules violation. Regardless, the team hoped to carry the momentum into 1991. Disappointingly, Martin finished sixth in points, and didn't win until the season finale at Atlanta Motor Speedway.
In 1992, Valvoline joined to sponsor the car, but the team's position in points still did not improve. Finally, they recaptured the magic of before in 1993, as Martin notched five victories and finished third in points. 1994 found Martin and the 6 team finishing once again runner-up to Earnhardt in points. In 1995, Martin defeated former teammate Wally Dallenbach Jr. to win at Watkins Glen and won the most money of his career at that time, $1,893,519. However, the team's performance slumped sharply in 1996, as Martin did not visit victory lane. He would win again 1997, with an additional four victories and finishing third in championship points. In 1998, Martin and team 6 had their most dominant season yet, winning seven times, but finished second in points yet again, this time to Jeff Gordon. The 1998 season was marked with a black spot when Martin's father Julian died in an aviation accident. Although 1999 saw Martn winning only twice, he finished in the top-10 in 26 out of 34 races.
After winning only one race in 2000, primary sponsor Valvoline left for MB2 Motorsports, and Pfizer/Viagra became the team's new financial backer. In addition, throughout the season Martin served as co-owner/mentor of rookie driver Matt Kenseth. However, Martin again failed to win, and ended up 12th in points, his lowest finish since 1988. The team won only once in 2002, but was narrowly defeated by Tony Stewart for the championship. 2003 was another season of lackluster performance for the team, as once again they didn't visit victory lane, and finished 17th in the final standings. 2004 brought improved performance, with a victory at Dover International Speedway and a 4th place finish in points. Prior to beginning the 2005 season, Martin stated that 2005 would be his last year in full-time Cup competition. The team conducted a Salute to You farewell tour to his fans highlighting many of Martin's career accomplishments. Martin finished fourth in points and went to victory lane once, along with achieving 19 top ten finishes. Due to contract issues, Roush was left without a driver for car 6 in 2006. After learning of the situation, Martin announced his return to car 6 for one more year. The team extended the Salute to You tour after modifying its logo to reflect the team's new sponsor, AAA. Todd Kluever was originally scheduled to drive the 6 car in 2007, but due to lackluster performance in the Busch Series, Roush Racing decided to put David Ragan in the car full time. He had three top-tens and finished 23rd in points.
Car #16 history
Edit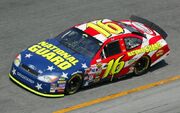 Originally the first car to make Roush Racing a multi-car stable, the 16 team debuted at the 1992 Daytona 500 with Keystone as the sponsor. Wally Dallenbach, Jr. drove the car to a fifteenth place finish. Dallenbach, however, earned only one top ten finish that year and finished 24th in points. 1993 proved to be a little better with Dallenbach posting four top tens. However, for 1994, the team underwent major changes. Driving duties were given to Ted Musgrave, with The Family Channel becoming the new sponsor. The car's performance improved drastically, with Musgrave notching three poles and finishing thirteenth in points. The 1995 season saw Musgrave improving six spots in points to seventh. Despite this success, Musgrave never visited victory lane in his tenure behind the wheel of the 16. Midway through 1998, Musgrave was released and replaced by rookie Kevin Lepage, who finished runner-up to Kenny Irwin, Jr. in Rookie of the Year honors.
Teamed with TV Guide, Lepage and the 16 team began 1999 with a fifth place finish at Darlington Raceway, having a chance to win the Winston Million bonus, and a pole at the season ending race at Atlanta. Unfortunately, TV Guide did not renew their contract for the 2000 season. Car 16 ran the beginning of the season unsponsored, before ultimately signing a multi-year pact with FamilyClick. Over the course of the year, Lepage missed two races and dropped to 38th in the standings. He was quickly released. Dissastisfied with the team's performance, FamilyClick did not return as a sponsor and the team disappeared for one year, before returning in 2002. During the 2002 season, car 16 was used to prepare 2001 NCTS champion and eventual Busch Series champion Greg Biffle for his Rookie of the Year run the following year. While the team missed several races, Biffle made seven starts. Biffle ran full-time as a rookie in 2003, with W. W. Grainger sponsoring the car. Biffle started 35 out of 36 races, won the Pepsi 400 and finished runner-up to Jamie McMurray for Rookie of the Year. The next year, the car had a new primary sponsor in the National Guard. Over the 2004 season, Biffle won twice. In 2005, Post-it Brand and 3M replaced Subway as a secondary sponsor. 2005 was to be the most successful year for car 16 to date, as the National Guard Ford won six races, a season high, and finished runner-up in the Chase for the Nextel Cup. Biffle is signed to drive until at least 2008. National Guard did not renew its contract, moving to Hendrick Motorsports and the #25. Ameriquest, 3M, and Aflac served as the primary sponsors in 2007. It was announced on June 27, 2008 that Biffle signed a contract extension to remain at Roush/Fenway through 2011 with 3M as his major sponsor.
Car #17 history
Edit
Having only one driver, Matt Kenseth, and one primary sponsor, DeWalt, although occasionally displaying an Arby's, USG Sheetrock, R+L Carriers, and Carhartt themes, the 17 car has been a consistent and successful team since entering NASCAR's premier series at a part-time level in 1999. Premiering at the summer Michigan race in 1999, Kenseth finished 14th. A fourth place finish one month later at Dover, subbing for Bill Elliott proved Kenseth was ready for Cup.
In 2000, the car started every race, won the Coca-Cola 600, and defeated favorite Dale Earnhardt Jr. for Rookie of the Year honors. The 2001 season saw Kenseth finish thirteenth in points, winless and with only 9 top ten finishes. However, the team saw marked improvement the next year, as Kenseth won five times in 2002, ultimately reaching an eighth place finish in points.
While winning only once, at Las Vegas Motor Speedway, Kenseth won the Winston Cup Championship by 90 points in 2003, earning Roush its first Cup championship. The team continued to perform in 2004, winning two races, making the Chase for the Nextel Cup, and finishing eighth in points. In 2005, Kenseth finished seventh in points after experiencing a disappointing beginning to the season. However, the second half of the year brought a resurgence of success for the car, as a win at Bristol Motor Speedway helped the team make its second consecutive Chase for the Nextel Cup. In 2006, Kenseth won 4 events, and finished second to Jimmie Johnson in the championship standings.
Car #26 history
Edit
What is now the 26 car raced for the first time at the 1993 fall event at Charlotte Motor Speedway as #97. Sponsored by Kleenex and owned by Greg Pollex, Chad Little was the driver. Little and Pollex ran part-time for four years with various sponsorships until 1997, when they ran full-time with backing from John Deere. However, after experiencing financial and performance struggles, Roush bought the team three-quarters of the way through the season. Little qualified for 27 out of 32 races that year. The team returned in 1998, with the car changing to the Ford nameplate from Pontiac.
Despite missing the spring Atlanta race, Little finished a career-best second at the Texas 500 and finished 15th in points. After that, the performance of the team slipped, and midway through 2000 it was announced that Little would leave the team. For the remainder of the season, a Roush Craftsman Truck Series driver, Kurt Busch, began running races for the team. Car 97, like the 16 car in 2000, started the 2001 season unsponsored, but soon found sponsorship from Rubbermaid and Sharpie. Busch's rookie year in Winston Cup was unspectacular save for a pole at Darlington. The team finished 27th in points, with only six top ten finishes. In 2002, Kurt Busch grabbed headlines after battling with Jimmy Spencer for a win at Bristol. This sparked a rivalry between the two drivers that lasted for the following years. However, the 2002 season marked a coming-of-age for the team, which won four times (including 3 of the final five races and the season ender at Homestead) and finished third in the championship points. Busch drove car 97 to victory four times in 2003, along with 14 top ten finishes. The team was riding in the top 10 for most of the season, but late season struggles brought the team an 11th place points finish. 2004 was the defining year of team #97. Winning three times, earning 21 top ten finishes, and clinching a pole, Busch won the first Chase for the Cup Championship. In 2005, he won three times and finished tenth in points.
Midway through the 2005 season, Busch shocked many in the NASCAR community when he announced that he would be leaving Roush Racing and replacing the retiring Rusty Wallace in the #2, owned by Penske Racing. On November 7, 2005 it was announced that Busch had been released from contractual obligations at Roush and would leave the team at the end of the season [1]. In November 2005, Busch was cited for reckless driving in an area close to Phoenix International Raceway. Although no action was taken by NASCAR, Roush Racing suspended Busch for the remainder of the 2005 season. Kenny Wallace took his place for the final two races of the season.
On November 16, it was officially announced that the #97 would be switching to the #26 for the 2006 season and beyond [2]. Jamie McMurray was the car's new driver, with sponsorship from Crown Royal, Smirnoff Ice, and Irwin Industrial Tools. He had seven top-ten finishes and finished 25th in points in his first year with the team. For 2007, the season hit its peak when McMurray edged out Kyle Busch by 0.005 seconds to win the Pepsi 400.
Previous to its 2006 incarnation, #26 had been run before by Roush Racing in 1998 and 1999. Sponsored by General Mills, the team debuted at North Carolina, where Johnny Benson finished 30th in the car. Benson ended the 1998 season with 10 top ten finishes and earned twentieth place in the championship points. In 1999, the 26 car experienced a very disappointing year. After mustering only two top-10 finishes and dropping eight spots in points, Benson quit the team to drive for Tyler Jet Motorsports. The 26 team was subsequently disbanded.
Car #99 history
Edit
Car 99 first raced at the 1996 Daytona 500, with Jeff Burton driving and Exide Batteries the sponsor. The car finished fifth. After missing the first Atlanta race, Burton won a pole at Michigan and finished 13th in points.
The 1997 season proved to be better for the team, as Burton won the first three races of his career (including the inaugural Cup race at Texas Motor Speedway) and ended fourth in points. In 1998, Burton enjoyed another successful season, winning twice, mounting 23 top ten finishes, and earning fifth place in the championship points. The team led the standings for part of 1999, but lost the top spot after performing poorly at Richmond. The team again settled for fifth in the points, with six wins and, like the previous year, 23 top ten finishes. Late in 2000, Exide ceased their sponsorship, and Citgo joined with new financial backing. The car finished a team-high third in the points, with four wins, one of which was at New Hampshire in September where NASCAR used restrictor plates following the deaths of Adam Petty and Kenny Irwin earlier that year, along with 22 top ten finishes and one pole position. Burton got his last win with the car at Phoenix in 2001. However, the team's performance sharply dropped, landing at tenth in points.
After the 2003 season, Citgo discontinued their sponsorship of car 99, forcing associate sponsors, including SKF and Pennzoil, and Roush Racing to fund the team. Disappointed with the team, Burton and many remaining sponsors of the team left for Richard Childress Racing mid-season in 2004. To fill the void left by this departure, Roush elevated Carl Edwards from the truck series. Edwards showed immediate promise while driving the unsponsored 99 entry, posting five top ten finishes in his abbreviated season. During his first full-time season, 2005, with sponsorship from Scotts, Office Depot, Stonebridge Life Insurance Company and World Financial Group, Edwards won four times and finished in a tie for second in points. In 2006, Office Depot became the exclusive sponsor of the team. Edwards failed to win or make the Chase for the Cup, posting ten top-fives but finishing twelfth in points. Edwards snapped his 52 race winless streak by winning the Citizens Bank 400 at Michigan International Speedway. In 2008, he won at California Speedway and Las Vegas Motor Speedway. However, after a loose oil cap was discovered after Vegas, Edwards lost the points lead due to a penalty. Edwards returned to victory lane 4 weeks later at Texas Motor Speedway where he won the Samsung 500 in the #99 Aflac Ford Fusion.
NASCAR Nationwide Series
Edit
Car #06 history
Edit
The number 06 Ford Fusion first raced in the 2006 Hershey's Kissables 300 at Daytona International Speedway. Todd Kluever piloted the car, with sponsorship from 3M, for the entire 2006 season, earning four top-ten finishes and one pole. Mike Kelley, the former car chief on championship car 97, was the crew chief. For 2007, Mark drove the 06 machine, with sponsorship from Dish Network at Daytona International Speedway and Texas Motor Speedway.
Car #6 history
Edit
The car now known as the 6 car debuted at Daytona in 1997 as the 9 car. Jeff Burton drove the Track Gear sponsored Ford Taurus to a 40th place finish. During the 1997 season, Robbie Crouch, Musgrave, and Rob Wilson drove the #9 on limited schedules, with a best finish coming from Crouch at Loudon. Over the next six years, Burton drove to 16 wins with additional sponsorships from Northern Light and Febreeze, among others. After Burton left Roush Racing midway through 2004, Mark Martin returned to the Busch Series, posting four top-10s in five starts. In 2005, Martin ran five races and won twice. The car switched to the #6 in 2006, after a number switch with Evernham Motorsports, and ran a part-time schedule sponsored by Ameriquest. In 2007, David Ragan drove the car full-time in 2007 using the #06 owner's points, with sponsorship coming from the Discount Tire Company. After a 5th place finish in points, Ragan was named Rookie of the Year.
Car #16 history
Edit
The number 16 car made its Busch Series debut at Daytona in 2006. Greg Biffle drove the Ameriquest car in 20 races, winning once at California Speedway. For 2007, Biffle shared driving duties of the 3M Ford Fusion with Todd Kluever. For 2008, Citigroup will be the full time sponsor on the car, with Biffle, McMurray, and Colin Braun sharing the driving duties
Car #17 history
Edit
The 17 car debuted in 1994 at Darlington with driver/owner Robbie Reiser driving the unsponsored car to 35th after a crash. Reiser ran part-time for a few years. He hired Tim Bender to drive in 1997. After Bender was injured, Reiser decided to hire fellow Wisconsinite Matt Kenseth to take his place. Kenseth had seven top-10 finishes and ended the year 22nd in points. His substitution duty was impressive enough to get him a ride in Reiser's car for the next season. Kenseth won his first race at the North Carolina in 1998. Driving with new sponsorship from Lycos, Kenseth won three times and finished second in points to Dale Earnhardt Jr. DeWalt Tools became the sponsor in 1999, with Kenseth getting an additional four wins and a third place finish in points. The team actually was not a Roush team until 2002; Reiser, the team owner, ran Chevrolets through the 2001 season. Since then, the 17 car has run part time with a variety of different sponsors, with Kenseth at least co-driving each time. In 2006, the car ran a limited schedule sponsored by Ameriquest and Pennzoil. Kenseth had three wins. In 2007 the 17 car was sponsored by Arby's, Dish Network, and Weyerhauser, and continued to be driven by Matt Kenseth, along with Danny O'Quinn, and Michel Jourdain Jr.. The car took two wins at California and Texas, with Kenseth finishing 10th in points despite running only 23 races. For 2008 sponsorship is expected to be the same, with Citigroup coming on board for a few races.
Car #26 history
Edit
The number 26 Ford debuted as the #50 at Daytona in 2006. Danny O'Quinn was the driver, with primary sponsorship from World Financial Group and Stonebridge Life Insurance Company, members of the AEGON group, after beginning the season with sponsorship from Roush Racing only. Drew Blickensderfer was the crew chief. O'Quinn had five top-ten finishes and was named Rookie of the Year despite being replaced by David Ragan for two races. The team switched to the #26 for 2007, with Greg Biffle driving at Daytona with Oreo sponsorship. Jamie McMurray then drove the car for the majority of the season sponsored by Dish Network , finishing in the top-ten three times. Todd Kluever drove twice with a best finish of nineteenth.
Car #60 history
Edit
The centerpiece and original car of Roush Racing's Busch operation debuted at the opening race of the 1992 Busch Series season at Daytona. Mark Martin was driving with Winn-Dixie as sponsor. Martin finished sixth in that race. For the next several years, this was Martin's personal Busch car and he won enough races to surpass Jack Ingram as the all-time leader of wins in the Busch Series. During this time, he and several other Winston Cup drivers came under steep controversy for running the Busch Series as well as Cup. These drivers earned the nickname "Busch Whackers." After 2000, Martin decided to stop running Busch, and Winn-Dixie left NASCAR as a car sponsor. His replacement was Greg Biffle, who brought Grainger with him to sponsor the car. Biffle had a phemomenal rookie season, winning five times and even leading the championship standings at one point in the season. After winning four more times and the championship by a wide margin, Biffle moved to Winston Cup, bringing Grainger with him. Stanton Barrett, who had never had a quality ride jumped on board with Odoban sponsoring. Despite winning two consecutive poles, the car folded early in the season due to sponsorship concerns. It returned the next season with Charter Communications sponsoring and Biffle driving again. Biffle won five more times and finished third in points running full-time. In 2005, rookie Carl Edwards won five races en route to finishing third in points, and earned Rookie of the Year honors. Edwards returned to drive the Ameriquest-sponsored Ford for a full-time schedule in 2006, winning four more times and was runner-up for the championship. Edwards continued to pilot the car in 2007, with rotating sponsorship from Scotts, World Financial Group, and others. Edwards and the #60 team went on to win the 2007 Busch Grand National Series Championship by a very wide margin over David Reutimann (#99 Toyota).
NASCAR Craftsman Truck Series
Edit
Truck #09 history
Edit
The 09 truck began running in 2005 as a research and development entry for Ford. Bobby East attempted a few races in the truck (then #33) but failed to qualify. Mark Martin made the team's first qualification at the Ford 200, where he started 14th and finished 8th with sponsorship from Stonebridge Life Insurance.
After Martin's strong start to the 2006 season, his original limited schedule was expanded. Roush decided to run another part-time team for rookie David Ragan to fill out his original schedule. Ragan took the #50 to a 22nd place finish at Atlanta, but struggled in his next few starts in both the #50 and the #6. After crashing the #6 in practice for the Mansfield race, he was replaced for the weekend. Carl Edwards ran the #50 at the Dover race, and Ragan returned at the Texas race. Ragan's best finish in the 50 came at Atlanta where he finished sixth. Peter Shepherd and Michel Jourdain, Jr. also drove the 50 on a part-time basis during the season with sponsorship from PurposeMoney.com. Edwards drove the truck for the first two races of the season unsponsored, when it was announced T.J. Bell would drive the truck for fifteen races, bringing sponsorship from Heathcliff's Cat Litter. Development drivers Peter Shepherd and Danny O'Quinn Jr. also drove the #50 truck with sponsorship from Northern Tool and Equipment. Joey Clanton began the season driving the #09 full-time in 2008 with Zaxby's sponsoring, but after the season-opening race, he was released, with Travis Kvapil returning to the ride. Kvapil, East, and Jon Wes Townley will share driving duties of the 09 truck for the rest of the season.
Truck #6 history
Edit
The #6 truck debuted at Heartland Park Topeka in 1996 as #99. It was sponsored by Exide Batteries and driven to an eighth place finish by Jeff Burton. Posting three top tens in four races that year, he shared the ride with Mark Martin, who won at North Wilkesboro Speedway. The next year, Chuck Bown was hired to drive full-time, and posted thirteen top tens and finished ninth in points. The rotating doors moved again, and Joe Ruttman was driving this truck in 1998, winning once and finishing 3rd in points. Mike Bliss was next to tackle the ride, and he performed masterfully, winning at Martinsville at finishing 9th in points. When Bliss left for an ill-fated rookie year in Winston Cup, Kurt Busch was named the new driver. Busch won four times and finished second to teammate Biffle in the championship, easily winning Rookie of the Year.
Both Busch and Exide exited after that season, and rookie Nathan Haseleu took over with Eldon the new sponsor. Despite posting four top ten finishes in the first twelve races of the season, Hasleau was waived and replaced by Kurt's younger brother Kyle for a limited run. Despite being 16 years old, Busch had two top tens and was scheduled to go full-time in 2002, before NASCAR announced all drivers in its top series must be age 18. Biffle and Tim Woods III also drive the 99 in limited runs during 2001. After Tim Fedewa ran the season-opener in the truck, the team took the rest of 2002 off, the truck returned in 2003 with sponsorship from Superchips and a new driver in Carl Edwards. Edwards won three races and the Rookie of the Year title. He repeated his win total in 2004, and moved up to fourth in points.
When he moved up to Nextel Cup for 2005, Roush hired a former Cup driver, Ricky Craven to take his place. Despite posting seven top tens and winning at Martinsville, Roush and Craven announced they would not be back together in 2006. Instead, the truck switched to #6, and was shared by NEXTEL Cup veteran Mark Martin and rookie David Ragan. The #6 truck's new sponsor was Scotts, and the truck, piloted by Martin, won the first two races of the 2006 season. Martin then decided to race more races than he originally intended, and he only skipped races without a corresponding Nextel Cup event. Auggie Vidovich II drove for the Mansfield race after Ragan crashed the truck in practice, finishing 19th. Ragan shared the truck with Martin for the balance of the season and had six top-tens and one pole in the 6 truck. Martin had the most success in the truck, winning five races. Overall, the team finished 2nd in the owner's points. 2003 NCTS Champion Travis Kvapil returned to the Truck Series in 2007, and won four races en route to a sixth place finish in points. As Kvapil heads back to the Sprint Cup Series with Yates Racing, former Rolex Sports Car Series driver Colin Braun will take Kvapil's place in the 6 truck with sponsorship from Con-way.
Truck #99 history
Edit
The original truck in Roush's stable debuted in 1995 at the Heartland Park Topeka road course. It was #61 and driven to a fourth place finish by Todd Bodine. Bodine had two more top ten runs at Richmond and Mesa Marin Raceway before Ted Musgrave drove to a fourth place finish at Phoenix. In 1996, the car switched to #80 and Joe Ruttman was at the wheel, nailing down sixteen top-10's and finishing 4th in points. In 1997, with sponsorship from LCI, Ruttman won five times and finished 3rd in points. After running one race with the truck in 1998, the truck switched to #50 and Ruttman took over another ride with the team and he was replaced by rookie Greg Biffle, whom Roush hired under the recommendation of Benny Parsons. Although he failed to win, Biffle won four poles and finished eighth in points.
Biffle would go on to have a breakout season 1999, when he won nine times, and was in contention for the championship for much of the season before finally losing to Jack Sprague. His 2000 season was less dominant with only five wins, but he was able to win the championship by 230 points over teammate Kurt Busch. In 2001, Roush hired an unknown modified driver named Chuck Hossfeld to take Biffle's place as he was moving up to the Busch Series. Hossfeld struggled in his rookie year, and soon he was released, with a rotation of drivers including Jon Wood and Biffle himself in the driver's seat. Wood's audition was impressive enough to earn him a full-time run in 2002, and he posted twelve top ten finishes in the U.S. Navy sponsored truck and finished 12th in points in his first full year. Wood had two wins the next year, and finished 15th in points in 2004 before moving on. In 2005, Todd Kluever piloted the World Financial Group truck to six top five and twelve top ten finishes in his rookie season. Erik Darnell piloted the newly-renumbered truck full time in 2006 with at first Woolrich, but eventually Northern Tool and Equipment as sponsor to a 2006 Rookie of the Year title. 2007 brought about Darnell's first win at Kansas, but inconsistency put the team 12th at season's end.
Partnerships
Edit
Yates Racing
Edit
Perhaps Roush Racing's most famous partnership is with fellow Ford team Yates Racing. In 2004, the two teams announced a program to combine their engine divisions, a move which greatly improved the power of both organizations' engines. By 2006, most Ford teams were using the Yates/Roush engines, including long-time Ford team Wood Brothers/JTG Racing.
Yates has purchased at least one Roush chassis, and may be moving towards adopting Roush's car designs. Jack Roush has also stated that Roush Racing would not court RYR's sponsors when their contracts were up.
Tim Brown Partnership
Edit
In 2005, nine-time Pro Bowl NFL Wide receiver Tim Brown announced that he intended to start his own NASCAR team, most likely #81, and receive equipment from Roush Racing [3]. Brown also stated that he will let Roush select his driver [4]. The series the team will run will depend on how much sponsorship money the team gets.
Brown has said that his team will most likely not enter NASCAR until 2007, but as of October 2006, no further announcements have been made about the status of this partnership. If it does happen, it will likely be an arrangement similar to the affiliation deal with No Fear Racing.
No Fear Racing
Edit
In 2006, SoBe No Fear energy drink announced that it was forming a new team to run full-time in 2007, with a car driven by road racing specialist Boris Said. It was also announced that this new team would be affiliated with Roush Racing. This allows Roush to sell No Fear Racing cars and equipment, as well as help them with engineering. In return, Said is tutoring Roush's younger drivers on road course racing. [5] The team began running a limited schedule with the Sonoma road course in 2006.
Robby Gordon
Edit
Starting with the 2007 season, Robby Gordon switched from Chevrolet to Ford vehicles after signing a contract with Ford Racing. He leased engines from the Roush/Yates engine program through the 2007 season, until he switched to Gillett Evernham engines and a Dodge Charger.
Creation of Roush Fenway Racing
Edit
On February 14 2007, the Fenway Sports Group, owner of the Boston Red Sox baseball team, purchased 50% of Roush Racing to create a new corporate entity, Roush Fenway Racing. [6]
Mike Dee, president of the Fenway Sports Group was quoted as saying, "Although there have been many instances of cross ownership in the world of professional sports, this partnership marks the first time that owners of a professional franchise in one of the four major leagues have crossed over into the world of NASCAR."
Current management will remain in place at Roush Fenway Racing, with Jack Roush handling all competitive operations and Geoff Smith will continue as Roush Racing president to handle business activities. [7]
The Gong Show
Edit
Roush Racing hires many of its developmental drivers through an elimination style of testing entitled The Gong Show. The process begins when Roush solicits applications from thousands of drivers from all levels. They are then put through a series of tests, gauging not only driving skills, but also public relations talent and personality traits. Eventually, the field is narrowed down to an elite group who are allowed to race Roush vehicles, often Craftsman Truck Series trucks, in an attempt to assess driving ability. Those with the fastest times progress, and ultimately the best are awarded with a contract to drive for Roush in the Craftsman Truck Series or Busch Series. In 2005, the process was documented in the Discovery Channel television series Roush Racing: Driver X, which followed the stories of those involved in the 2005 Gong Show.
The term "Gong Show" comes from the 1970s talent show/parody spoof "The Gong Show."
See also
Edit
External links
Edit
Community content is available under
CC-BY-SA
unless otherwise noted.