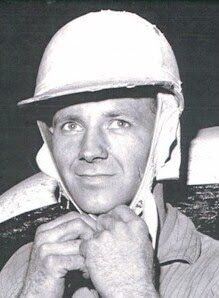 Ralph Earnhardt
Birthplace:

Kannapolis

,

North Carolina

Born:

February 23

,

1928

Died:

September 26

,

1973

Cause of Death:
Heart attack
Awards:

1956

NASCAR Sportsman champion

1997 International Motorsports Hall of Fame inductee

NASCAR Cup statistics
51 races run over 6 years.
Best Cup Position:
17tn -

1961

(Grand National)
First Race:

1956

Buddy Shuman 250

(Hickory Speedway)
Last Race:

1964

unnamed race (Concord Speedway)
First Win:
-
Last Win:
-
Wins
Top Tens
Poles
0
16
1
Ralph Earnhardt (February 23, 1928—September 26, 1973) was a NASCAR racing legend. He was the father of Dale Earnhardt, and the grandfather of Dale Earnhardt, Jr. and Kerry Earnhardt.
Background
[
]
Ralph was born in Kannapolis, North Carolina where he spent many years working in a cotton mill. One of the only ways out of this poor living was racing. Ralph started his racing career on dirt tracks where he was famous for keeping his car in top condition throughout each race.
Racing career
[
]
In 1956, he won the NASCAR Sportsman Championship. He had a second place finish in his first Grand National (now Sprint Cup) race in 1956. In 1961, Ralph had his highest finish by finishing 17th in the Grand National point standings.
Death
[
]
Ralph Earnhardt died at the age of 45 on September 26, 1973 from a heart attack while working in his garage.