The National Association for Stock Car Auto Racing (NASCAR) is the largest sanctioning body of motorsports in the United States. The three largest racing series sanctioned by NASCAR are the Monster Energy Cup Series, the Xfinity Series and the Gander Outdoors Truck Series. It also oversees seven regional series and one local grassroots series. NASCAR sanctions over 1,500 races at over 100 tracks in 38 states, Canada, and Mexico. In 1996, 1997 and 1998 NASCAR also held exhibition races in Japan. Australia held one race in 1988 and Neil Bonnett won.
Beginning as regional entertainment in the Southeastern U.S., NASCAR has grown to become the second most popular professional sport in terms of television ratings inside the U.S., ranking behind only the National Football League. Internationally, NASCAR races are broadcast in over 150 countries. It holds 17 of the top 20 attended sporting events in the U.S., and has 75 million fans who purchase over $2 billion in annual licensed product sales. These fans are considered the most brand-loyal in all of sports, and as a result, Fortune 500 companies sponsor NASCAR more than any other sport.
NASCAR's headquarters are located in Daytona Beach, Florida, although it also maintains offices in four North Carolina cities: Charlotte, Mooresville, Concord and Conover as well as New York City, Los Angeles, Arkansas, and international offices in Mexico City, Mexico, and Toronto, Canada.
History
Early history
In the first decade of the 1900s, Daytona Beach became known as the place to set world land speed records. The beach became a mecca for racing enthusiasts. Fifteen records were set at the beach between 1905 and 1935, when the Bonneville Salt Flats became the premiere place to host land speed record attempts. In 1936 the course began hosting car racing events. Drivers raced a 1.5 to 2 mile stretch of beach as one straightaway, and beachfront highway A1A as the other.
Other early race drivers were involved in bootlegging. The runners would modify their cars in order to create a faster, more maneuverable vehicle to evade the police. The next logical step for the owners of these cars was to race them. These races were popular entertainment in the rural South, and they are most closely associated with the Wilkes County region of North Carolina. Most races in those days were of modified cars, street vehicles which were lightened and reinforced.
Mechanic William France Sr. moved to Daytona Beach from Washington, D.C. in 1935 to escape the Great Depression. He was familiar with the history of the area from the land speed record attempts. France entered the 1936 Daytona event, finishing fifth. He took over running the course in 1938. He promoted a few races before World War II.
France had the notion that people would enjoy watching unmodified, "stock" cars race. Drivers were frequently victimized by unscrupulous promoters who would leave events with all the money before drivers were paid. In 1947, he decided this racing would not grow without a formal sanctioning organization, standardized rules, a regular schedule, and an organized championship. On December 14, 1947, France began talks with other influential racers and promoters at the Ebony Bar at the Streamline Hotel at Daytona Beach, Florida that ended with the formation of NASCAR on February 21, 1948.
NASCAR was founded by France February 21, 1948, with the help several other drivers of that time, with a Championship Points System written on a barroom napkin. The premiere track on the circuit for the early seasons was the Daytona Beach Road Course. The sanctioning body hosted their first event at Daytona Beach on February 15, 1948. Red Byron beat Marshall Teague in the Modified division race. NASCAR had several divisions in its early years.
The first NASCAR "Strictly Stock" race ever was held at the Charlotte Speedway (not the Charlotte Motor Speedway) on June 19, 1949.
One of the tracks used in the inaugural season is still on today's Cup circuit: Martinsville Speedway. Another old track which is still in use is Darlington Raceway, which opened in 1950. (The oldest track on today's NEXTEL Cup circuit is the Indianapolis Motor Speedway which dates back to 1909; however, the first Brickyard 400 did not take place until 1994.)
Initially, the cars were known as the Strictly Stock Division and raced with virtually no modifications on the factory models. This division was renamed "Grand National" after the first season (in 1950). However, over a period of about a dozen years, modifications for both safety and performance were allowed, and by the mid-1960s the vehicles were purpose-built race cars with a stock-appearing body.
Most races were on half-mile to 1-mile (800 to 1600 m) oval tracks. However, the first "superspeedway" was built in Darlington, South Carolina, in 1950. This track, at 1.38 miles (2.22 km), was wider, faster and higher-banked than the racers had seen. Darlington was the premiere event of the series until 1959. Daytona International Speedway, a 2.5-mile (4 km) high-banked track, opened in 1959 and became the icon of the sport. The track was built on a swamp, so France took a huge risk in building the track.
Growth of the sport
The sport began to attract more attention through the 1950s as manufacturers realized the opportunity to promote sales through racing. At various times Ford Motor Company (Ford and Mercury), General Motors (Chevrolet and Pontiac), and Chrysler (Dodge, Chrysler, and Plymouth) all supported factory teams, openly and sometimes covertly when they pretended "not to be involved in racing." The teams became full-time jobs for the top drivers and owners. Although stock racing did not have much following outside the Southeast, people like Lee Petty, Curtis Turner, Fireball Roberts, Smokey Yunick, and Junior Johnson became well known within the racing world.
Originally, all the races were held in the eastern U.S., because the economics of traveling with racecars, parts, and mechanics demanded it. The majority of the races took place in the southeast, but there have always been at least a few races in the midwest and the northeast. The first event on the West Coast took place on April 8, 1951, at a half-mile dirt track in Gardena, California [1].
Many of the venues were county fairgrounds or local tracks that hosted local racing on Saturday night when the touring stars were not in town. An exception was Riverside Raceway, in Riverside, California; because of the travel distances involved, it traditionally either started the Grand National season or ended it.
Beginning of the modern era
NASCAR made major changes in its structure in the early 1970s. The top series found sponsorship from R.J. Reynolds Tobacco Company (RJR) (tobacco companies had been banned from television advertising and were looking for a promotional outlet). The "Winston Cup" (began in 1971) became the top competitive series, with a new points system and some significant cash benefits to competing for championship points. The next division down, called Late Model Sportsman, gained the "Grand National" title passed down from the top division and soon found a sponsor in Busch Beer. In the mid-1970s some races began to get partial television coverage, frequently on the ABC sports variety show, Wide World of Sports.
Finally, in 1979, the Daytona 500 became the first stock car race that was nationally televised from flag to flag on CBS. The leaders going into the last lap, Cale Yarborough and Donnie Allison, wrecked on the backstretch while dicing for the lead, and Richard Petty passed to win. Immediately, Yarborough, Allison, and Allison's brother Bobby were engaged in a fistfight on national television. This underlined the drama and emotion of the sport and increased its broadcast marketability. Luckily for NASCAR, the race coincided with a major snowstorm along the United States' eastern seaboard, successfully introducing much of the captive audience to the sport.
The beginning of the modern era, which NASCAR defines as 1972, also brought a change in the competitive structure. The purse awarded for championship points accumulated over the course of the season began to be significant. Previously, drivers were mostly concerned about winning individual races. Now, their standing in championship points became an important factor.
The first NASCAR competition held outside of the U.S. was in Canada, where on July 1, 1952, Buddy Shuman won a 200-lap race on a half-mile (800 m) dirt track in Stamford Park, Ontario, near Niagara Falls. On July 18, 1958, Richard Petty made his premiership debut in a race at Toronto at the Canadian National Exhibition Grounds. He completed 55 laps before crashing, while father Lee won the 100-lap feature.
An exhbition race was held in 1988 in Australia, with Neil Bonnett winning. In 1996, NASCAR went to Japan for Suzuka NASCAR Thunder 100 at Suzuka Circuitland in Suzuka City on November 24, 1996. This exhibition (non-points) race was won by Rusty Wallace. Two more exhibition races were held in Japan in 1997 and 1998, both races being won by Mike Skinner (NASCAR). On March 6, 2005 the first NASCAR points-paying race outside of the United States since 1958 was held for the NASCAR Busch Series at the Autodromo Hermanos Rodriguez racetrack in Mexico City. The winner of this twisty road course event was defending series champion Martin Truex, Jr.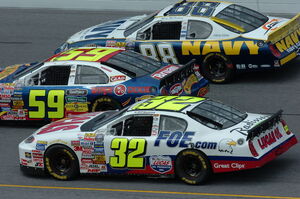 Sprint Cup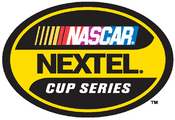 Main Article: Sprint Cup
The NASCAR NEXTEL Cup series is the sport's highest level of professional competition, and consequently it is the most popular and most profitable NASCAR series. The 2006 NEXTEL Cup season consists of 36 races over 10 months, with well over $4 million in total prize money at stake at each race. Writers and fans often use "Cup" to refer to the NEXTEL Cup series, and, although ambiguous, the use of "NASCAR" as a synonym for the NEXTEL Cup series is common.
In 2004, NEXTEL took over sponsorship of the premier series from Winston, formally (Winston Cup), renaming it the NEXTEL Cup Series. In 2005 Tony Stewart became the first driver to win both the Winston Cup and the NEXTEL Cup championship, although they are the same championship.
Chase for the Cup
In 2004, NASCAR implemented a ten-race playoff system it called the "Chase for the Cup". After 26 races, the top 10 drivers in points (plus any driver within 400 points of the leader who may be outside the top 10) are placed in the "Chase". Eligible drivers' points are elevated to a level mathematically unattainable by anyone outside this field. Points are also bunched together in 5-point increments so the leader is 45 points ahead of 10th place. Race layouts remain the same and points are scored the same way in the final 10 races. Whoever leads in points after the 36th race is declared the NEXTEL Cup champion.
This playoff system was implemented primarily to increase television ratings during the college and National Football League seasons, plus the Major League Baseball pennant race and postseason as well as the outset of the NHL and NBA and to make the points race more competitive. Previously, the champion may have been decided before the last race (or even several races before the end of the season) because it was mathematically impossible for any other driver to gain enough points to overcome him.
Drivers that are not in the "Chase" (not statistically able to win the championship) still compete in the final ten races, with the 11th place finisher receiving a $1 million bonus. Many long-time fans and several veteran drivers have decried the new format but sports media has given the last ten races increased attention than in previous years.
Races and racetracks
NASCAR races are not conducted on identical tracks. Oval tracks vary in length from 0.526 miles (847 m) (Martinsville Speedway) to 2.66 miles (4.28 km) (Talladega Superspeedway). While some tracks are ovals (Bristol Motor Speedway, Dover International Speedway), many are tri-ovals (Kansas Speedway, Michigan International Speedway). Other configurations are quad-oval (Lowe's Motor Speedway, Atlanta Motor Speedway),(Texas Motor Speedway), D-oval(California Speedway), oval with unequal ends (Darlington Raceway), and triangular (Pocono Raceway in Pennsylvania). Courses also differ in degree of banking on the curves, with differences in degree of banking and course length contributing to different top speeds on various courses (New Hampshire International Speedway and Phoenix International Raceway). Two courses (Infineon Raceway and Watkins Glen International) are complex shaped road courses.
Race speeds vary widely based on the track. The fastest track is Talladega Superspeedway where the record race average speed is 188 mph (303 km/h) with the record qualifying lap of 212.809 mph (342.483 km/h) set by Bill Elliott in 1988. The slowest tracks are Infineon Raceway, a road course, with a record race average speed of only 81 mph (130 km/h) and qualifying lap of 99 mph (159 km/h); and Martinsville Speedway, a very short, nearly flat "paper clip" oval, with a record race average speed of 82 mph (132 km/h) and a qualifying lap of only 98 mph (156 km/h). The average speed is figured out based upon the winner's lap speeds throughout the entire races including laps spent under caution.
Generally, tracks with a length of less than one mile (1.6 km) are referred to as "short tracks". Initially tracks of over one mile were referred to as "superspeedways", but many NASCAR venues now are 1.5 miles or 2 miles (2.4 or 3 km) in length. Tracks on today's standards are now considered superspeedways if they are over 2 miles (3 km) in length. Tracks between 1 and 2 miles in length are called "intermediate" tracks.
As a safety measure to reduce speeds at the two high-banked superspeedways (Daytona and Talladega), a restrictor plate must be placed between the carburetor and intake manifold to restrict air and fuel flow and, therefore, power and hp. This has reduced speeds at these tracks to the point that higher speeds are now seen at some tracks where restrictor plates are not mandated, specifically Atlanta Motor Speedway and Texas Motor Speedway. While Atlanta is generally considered the fastest track, restrictor plates are not mandated there, in 2004 and 2005 higher qualifying speeds were posted at Texas, earning it the title of the circuit's fastest track. Unrestricted, NASCAR cars produce over 750 horsepower (600 kW) and can run at speeds in excess of 200 mph (miles per hour). Rusty Wallace completed a 2004 test for NASCAR at Talladega in which he used an unrestricted motor to complete average lap speeds of 221 mph and top speeds near 230 mph (Source: [2] NASCAR.com).
Present racecars
While the manufacturers and models of automobiles for Nextel Cup and Busch Series racing are named for production cars (Dodge Charger, Chevrolet Monte Carlo SS, and the Ford Fusion), the similarities between Nextel Cup cars and actual production cars are limited to a small amount of shaping of the nose and grill areas. On January 23, 2006, it was announced that Toyota will enter the Cup and Busch Series in 2007, fielding the Camry. In the Craftsman Truck Series, the Chevrolet Silverado, the Dodge Ram and the Ford F150, as well as the only non-American brand in NASCAR, the Toyota Tundra, are used. NASCAR rules state the cars or trucks must be manufactured in the US if they are to be used in races. The Tundra and Camry qualify since both are manufactured in the US.
The cars are rear-wheel-drive, high-powered, low-tech hot rods with a roll cage chassis and thin sheet metal covering, and are powered by carbureted engines with 4 speed manual transmissions. The engines are limited to 358 in³ (5.8 L), with cast iron blocks, one camshaft and a pushrod valvetrain. However, significant engine development has allowed these engines to reach exceedingly high levels of power with essentially 1950s technology.
The automobiles' suspension, brakes, and aerodynamic components are also selected to tailor the cars to different racetracks. The adjustment of front and rear aerodynamic downforce, spring rates, rear track bar geometry, and brake proportioning are critical to the cornering characteristics of the cars. A car that is difficult to turn in a corner is said to be "tight", causing the car to want to keep going up the track with the wheel turned all the way left, while one that has a tendency to slide the rear end out is said to be "loose", causing the back end of the car to slide around which can result in the car spinning out if the driver is not careful. Loose and tight can be adjusted by increasing or decreasing the wedge and adding or removing camber, the "footprint" of the tires during cornering. These characteristics are also affected by tire stagger (tires of different circumference at different positions on the car, the right rear being largest to help effect left turns) and tire pressure (softer being "grippier").
NASCAR will mandate changes during the season if one particular car model becomes overly dominant. In fact almost all advantages of using one car over another have been nullified. NASCAR used to mandate stock or stock replacement hoods and decklids. However, in recent years, NASCAR has begun to require cars to conform to common body templates, regardless of make/model. This is more in-line with recent NASCAR tradition, because none of these stock cars have anything mechanically "stock" about them.
Safety
Safety in racing has come a long way since the first green flag dropped. Up until the last few years, NASCAR was heavily criticized for its lack of focus on safety. Many safety precautions were not mandatory, as they are in other racing series, but only optional or recommended. NASCAR changed its stance on this after the sport's most popular driver, Dale Earnhardt was killed in a racing accident on the last lap of the 2001 Daytona 500.
The seats that the drivers sit in have evolved over the past few years. Most of the seats found in the race cars wrap around the driver's rib cage which provides some support during a crash, spreading the load out over the entire rib cage instead of letting it concentrate in a smaller area. Some of the newer seats wrap around the driver's shoulders as well, which provides better support because the shoulders are more durable than the rib cage.
The seat belts in stock cars are very important. They are built to be stronger than a normal seat belt. The seat belts used are the five- or six-point harness, which is two straps coming down over the driver's shoulders, two straps wrap around the waist, and one or two come up between the legs. Since a string of accidents in 2000 and 2001 that killed Adam Petty, Kenny Irwin, Tony Roper and Dale Earnhardt (plus several other drivers in minor circuits) under similar circumstances, NASCAR has made it mandatory for the drivers to wear the HANS Device (Head And Neck Support) to restrict head movement and subsequent neck injury during a crash. Though NASCAR allowed another system (Hutchens) in the past, since 2005, HANS is the only head and neck restraint device allowed for use. It is a semi-hard collar made of carbon fiber and Kevlar, and it is held onto the upper body by a harness worn by the driver. Two flexible tethers on the collar are attached to the helmet to reduce the head's tendency to snap forward or to the side during a wreck.
In 1994, NASCAR introduced roof flaps to the car, which are designed to keep cars from getting airborne and possibly flipping down the track. If the speed of the car is high enough, it will generate enough lift to pick up the car if it spins backwards. To prevent this, NASCAR officials developed a set of flaps that are recessed into pockets on the roof of the car. When a car is turned around, and is going fast enough, the flaps come up and disrupt the airflow over the roof, eliminating most of the lift. The roof flaps generally keep the cars on the ground as they spin, although it is not guaranteed.
Beginning in the early 2000s, most tracks have installed softer walls and barriers along the track, called SAFER (Steel And Foam Energy Reduction) barriers. Soft walls are typically built of aluminum and styrofoam; materials that can absorb the impact of a car at high speeds, as opposed to a concrete wall which absorbs little-to-none of the impact. There are four types of softer walls and barriers:
Pit road safety has become the latest focus of NASCAR officials in recent years. At each track there are different speeds the cars are required to travel at (the speed depends on the size of the track and the size of pit road, generally 35 mph (60 km/h) on short tracks and road courses, 45 mph (70 km/h) on intermediate tracks and 55 mph (90 km/h) on superspeedways). NASCAR has placed a new electronic scoring system in use as of 2005 to monitor the speeds of cars on pit road by measuring the time it takes to get from checkpoint to checkpoint. As none of the cars are equipped with speedometers, the cars in prerace warm up laps are driven around the track at the pit road speed following the pace car so the drivers can mark on the tachometer the telemetry (term referring to the Revolutions Per Minute it takes to travel at the "speed limit") for the day. The tachometer then "guides" the speed of the car down pit road.
Over the wall pit members are now required to wear helmets after a string of members were injured and some open wheel series many members were ran over. In addition to the helmets, all members are required to wear full fire suits and gloves while the refueller must wear a fire apron as well as the suit. Tire changers must also wear safety glasses to prevent eye injuries from lug nuts thrown off the car.
As with changes to car models, NASCAR will institute new rules during a season if it deems it necessary to enhance safety.
Car of Tomorrow
for the main article, see Car of Tomorrow.
On January 12, 2006, NASCAR announced a universal car named "Car of Tomorrow", to be used for nearly half of the Sprint Cup schedule in 2007, with use in every Cup race by 2009[3]. Major focus was put on safety, but the new design also reduced dependence of aerodynamics and improved handling. Detachable rear spoiler, a feature penalized since its use in Dodge Charger Daytona and Plymouth Superbird in 1970, made a comeback[4].
North Carolina race shops
North Carolina has been deemed "NASCAR Valley" as 73% of all American motorsports employees work in North Carolina (this includes other motorsports series such as CART and ARCA). The majority of NASCAR teams are located in or near the Charlotte-metro area. Cities in North Carolina that are home to NASCAR teams include: Charlotte, Wilkesboro, Mooresville, Concord, Statesville, Huntersville, Welcome, Kernersville, Randleman, Greensboro, High Point, Harrisburg, and Kannapolis. Specifically, 82% of Nextel Cup teams, 72% of Busch Series teams, and 55% of Craftsman Truck Series teams are based in North Carolina. The majority of NASCAR Nextel Cup and Busch Series drivers maintain their primary residences near Charlotte.
Other NASCAR racing series
In addition to the three main series, NASCAR operates several other racing circuits.
Many local racetracks across the United States and Canada run under the Dodge Weekly Series banner, where local drivers are compared against each other in a formula where the best local track champion of the nation, as based on a formula, wins the Dodge Weekly Series National Championship.
NASCAR also sanctions three regional racing divisions: The Whelen Modified Tour, which races open wheel "modified" cars in Northern and Southern divisions; the AutoZone Elite Division, which races late-model cars which are lighter and less powerful than Nextel Cup cars, split into four divisions, Northwest, Southwest, Southeast, and Midwest; and the Grand National Division, which races in the Busch East (Formerly Busch North) and the AutoZone West Series. Grand National cars are similar to Busch Series cars, although they are less powerful.
In 2003, NASCAR standardized rules for its AutoZone Elite and Grand National divisions regional touring series as to permit cars in one series to race against cars in another series in the same division. The top 15 (Grand National) or 10 (AutoZone Elite) in each series will race in a one-race playoff, called the NASCAR Toyota All-Star Showdown, to determine the annual AutoZone Elite and Grand National champions. This event has been hosted at Irwindale Speedway in California since its inception.
Many drivers move up through the series before reaching the NEXTEL Cup series. In 2002, over 9,000 drivers had licenses from NASCAR to race at all levels.
The winners of the Dodge Weekly Series National Championship, the four AutoZone Elite Divisions, the two Whelen Modified and Grand National Divisions, and the three national series are invited to New York City in December to participate in Champions Week ceremonies which conclude with the annual awards banquet at the Waldorf-Astoria Hotel.
NASCAR and popular culture
See: NASCAR on FOX
Broadcast coverage
Before the 2001 NASCAR TV deal, each track discussed the TV rights with each network on their own. From the 1970s to the end of 2000, races usually alternated from one network to another from week to week with CBS and the Daytona 500 and then moving on to the other networks over the rest of the schedule. These networks were CBS, ABC, NBC, ESPN, TBS, and TNN. NBC did not start covering a race every year until 1999 and only covered one race each season, at Homestead-Miami Speedway. At the end of 1999 and beginning of 2000, NASCAR began to develop its own TV deal. Continuing their relationship with Turner and NBC, NASCAR added FOX and their family of networks in 2001 leaving CBS, ABC, ESPN, and TNN out of the deal. Ted Turner decided to move the coverage from TBS over to sister network TNT following the 2000 season.
In the United States, television broadcast rights are split between FOX/FX and NBC/TNT, with FOX/FX airing the first half of the season (from the second race of the season, currently at California Speedway, to the last race before the Pepsi 400 at Daytona, currently at Infineon Raceway) the (Dodge/Save-Mart 350K) and NBC/TNT airing the second half of the season from the race at Chicagoland Speedway to the season finale (the Ford 400) at Homestead-Miami Speedway. The networks alternate coverage of the first and most famous race of the season, the Daytona 500, with Fox getting the odd years and NBC the even ones. For balance, the opposite network will air Daytona's July race, the Pepsi 400. The current television contract was signed for eight years for FOX/FX and six years for NBC/TNT and is valued at $2.4 billion (US) [5]. FOX-owned Speed Channel carries the entire Craftsman Truck Series schedule.
On December 7, 2005, NASCAR signed a new eight-year, $4.48 billion deal [6] with FOX and the FOX-owned SPEED Channel, Disney-owned ABC, ESPN and ESPN2, along with TNT that will begin in 2007. The rights were split up as such:
Websites
There are many websites that cover the sport. Most drivers in the 3 major series have their own websites, such as Elliott Sadler. There are also rumor sites, such as Jayski's Silly Season Site and news-based sites such as thatsracin.com from the Charlotte Observer newspaper. Racingone.com[7]
Audio coverage
Audio coverage of all Nextel Cup, Busch Series, and the Camping World Truck Series races is available in the United States on both satellite radio and regular over-the-air broadcast radio on both the AM and FM bands. XM Radio currently holds the exclusive satellite radio broadcast rights for all NASCAR coverage through the end of the 2006 season. On February 23 2005, NASCAR awarded the satellite radio contract to XM Radio's primary competitor Sirius Satellite Radio for exclusive satellite radio rights to the 2007 through 2011 racing seasons in exchange for $107 million dollars.[8]. Motor Racing Network (MRN), a subsidiary of International Speedway Corporation (ISC), holds the over-the-air broadcast radio rights of 25 Nextel Cup races, all truck races, and 26 Busch Series races, as well as the Budweiser Shootout, the Gatorade Duel and Nextel All-Star Challenge. Performance Racing Network, a subsidiary of Speedway Motorsports, Inc., airs ten Cup races and nine Busch races. The Indianapolis Motor Speedway's network carries the Allstate 400 at The Brickyard in co-operation with PRN. All broadcasts are also available (for a fee) via the web at NASCAR.com [9].
International coverage
NASCAR is far less widely viewed than Formula One in most parts of the world. NASCAR races in Canada are available on Rogers Sportsnet or TSN, in addition to FOX, NBC, or Speed Channel which are available in Canada and Mexico. In the United Kingdom, television coverage is available on North American Sports Network (NASN), a fairly small satellite subscription channel, as well as on Motors TV. In New Zealand, Nextel Cup races are shown on Sky Sport. Fox Sports Australia televises the races in Australia.
Video games
Main article:NASCAR Video Games
NASCAR Racing 2003 Season by Papyrus Design Group is acknowledged by many to be the best simulation of the sport for the PC, even 3 years after its release.
NASCAR has collaborated with Electronic Arts to develop several best-selling video games that simulate NASCAR racing. The current game is titled NASCAR 06: Total Team Control. Many fans have criticized this series of games with unrealistic game play, lack of real drivers, and limited new features.
Related television shows
Criticism
Auto racing as sport
Auto racing of any kind is widely referred to as "motorsport" and is commonly covered with other sports news. However, some critics claim that auto racing should not be considered a sport, as the essence of the competition is the control of a machine, and not of the human body. Still, this does not turn away most people from its appeal to watch and enjoy, and in any case, the criticism is one that applies to any form of auto racing and is not exclusive to NASCAR.
From an athletic perspective, stock car racing is a very physically demanding activity, requiring stamina and concentration while driving at speeds near 200 mph (322 km/h). Drivers must endure ambient temperatures inside the car exceeding 150 degrees Fahrenheit for more than 3 hours at a time. Pit crews are exposed to a number of hazards, including fire, debris and fast moving automobiles. Both drivers and pit crews engage in regular physical training between races to stay in top shape.
Fan demographics
It is sometimes perceived that most NASCAR fans are rednecks . According to NASCAR, about 10% of NASCAR fans are African-American, which is a slightly smaller percentage of Blacks than in the general population. This compares to the NFL, where Black NFL fans represent about 11.7% of the total NFL base. The percentage of African-American NASCAR fans has grown by 86% since 1999. There have also been some attempts by NASCAR to bring in more African-American fans into the seats, and drivers into the races. About 40% of fans are female and their numbers are rising. About 75% have attended college and more than 25% own their own homes. About 36% of NASCAR fans make more than $50,000 a year. Finally, NASCAR fans are evenly distributed across the country. For example, 20% of NASCAR fans live in the Northeast U.S.; this is in line with the general population—20% of the U.S. population lives in the Northeast. While the largest base of NASCAR fans live in the Southern U.S., only 38% of the NASCAR fans live in the South. Again, this is in line with the general population—35% of the population lives in the South.
Difficulty as compared to other forms of motorsport
One of the most common criticisms of NASCAR is that almost all of the tracks are ovals (usually tri-ovals), a situation which has led some sportswriters to deride NASCAR as "taxis turning left for 500 miles."Template:Citation needed NASCAR is sometimes perceived as requiring less driving skill to race, compared with the complicated twists and turns seen in the average F1 course. NASCAR itself includes two road courses in each of its top two series, but some drivers sit out and allow road racing specialists to replace them. NASCAR supporters counter that NASCAR is not the only racing league to run a large number of races on "simple" oval tracks; the Indy Racing League also runs many oval track races.
Unlike in other forms of racing, NASCAR NEXTEL Cup drivers must endure a 38-race schedule over 41 weeks, at a wide variety of tracks, with different setups and strategies being required for each of them. Teams usually only have about five days to prepare before arriving at any given track. The schedule is one of the most demanding in motorsports, and has caused some drivers, such as Rusty Wallace, to retire for reluctance to commit to such a grueling season.
It is also notable that many drivers that achieved relative success in road racing, such as Scott Pruett and Christian Fittipaldi have failed to duplicate that success in NASCAR.
Technology
Critics also note that the 1950's-era technologies used in the 'stock cars', such as carburetors, cast-iron pushrod engine blocks, and leaded racing fuel (NASCAR is scheduled to switch to unleaded in 2008) bear little resemblance to modern day street vehicles. Modern NASCAR vehicles share very few attributes of the commercial models they are associated with; for example, the production Chevrolet Monte Carlo weighs nearly the same as the NASCAR Chevy Monte Carlo, but the NASCAR vehicle has an eight-cylinder engine driving the rear wheels, whereas the production car has a front-wheel-drive V6 (a V8 is optional). Supporters note that this is a modern condition: when NASCAR first started 50 years ago, the race cars were substantially similar to production vehicles, but the safety and performance needs of modern racing have required custom-built race cars. Supporters also note that the strict equipment rules place less emphasis on getting a technological advantage, and thus more emphasis on individual driver skill, which is widely believed to be a key selling point of NASCAR.
Business structure and decision making policies
NASCAR's business structure has also been criticized. Since its founding in 1947 by William France Sr., the overall NASCAR organization has been majority owned by the France family, ensuring that the family controls a majority of the overwhelming revenue that the sport generates (compared to other sports where the owners and players split revenue almost evenly). NASCAR is also criticised for its reluctance to promote some aspects of safety that it would have to pay for (e.g. travelling safety crew)[10][11], and other allegedly monopolistic aspects such as merchandising and race-track ownership. In addition, due to its overwhelming influence and lack of driver say NASCAR has even been compared to a dictatorship by some motorsports, political, and economic analysts.[12][13]Examples of such influence include the cancellation of the SPEED Channel television show "Pit Bull" (which frequently criticised many of NASCAR's irrational decisions and policies and enjoyed modest ratings), frequent use of the vague "detrimental to NASCAR" rule, and the creation of rules on whim, especially during a race. NASCAR has also fined drivers who make critical comments in the media, and has even taken championship points away from drivers (5 lap penalties have been handed down due to this in races). [14][15][16]
Emphasis on drama
Critics have also accused NASCAR of focusing on the more dramatic aspects of the races rather than the actual racing; in particular, this includes crashes that occur during or after the races, and the occasional fights between drivers. Some have also accused NASCAR of purposely raising yellow flags for minor problems a few laps before the end in order to bunch up the cars and create a more exciting finish, particularly with the recent addition of the "green-white-checkers" finish rule. Template:Citation needed
Driver competition in multiple series
NASCAR has long allowed drivers to compete in as many series and events as they like, with few restrictions. However, in recent years, top NEXTEL Cup drivers have competed in and dominated the lower tier Busch races on a regular basis, earning NEXTEL drivers the nickname "Buschwhackers." The situation is compounded by the close proximity of the races in the 2 series: a typical NASCAR weekend has a Busch race on Saturday followed by a NEXTEL race on Sunday at the same track. Some have wondered why "major league" NEXTEL drivers are allowed to compete in the "minor league" Busch races with such frequency, and whether Busch is an adequate developmental series. Sportswriter Bob Margolis noted that much of this is due to the similarities between the cars used in the two series (they are mostly alike except for the engines), and the desire for NEXTEL drivers to get as much practice time as possible to learn about the track and car setup before the main race. [17]
Environmental Impact
One recent estimate put NASCAR's total fuel consumption at 2 million US gallons (7.57 million liters) of gas for one season. NASCAR's use of lead based gasoline has also led to concerns expressed about the health of those exposed to the fumes of the cars (fans and residents living near the race tracks).[18] NASCAR is scheduled to switch to unleaded fuel in 2008.
See also
External links
References
Notes
Note 1: The largest NASCAR tracks can accommodate upwards of 170,000 people in the stands and infield, far larger than any non-motorsport venue in North America.
Community content is available under
CC-BY-SA
unless otherwise noted.