Martin Lee Truex, Jr. (born June 29, 1980) is a NASCAR Cup Series driver of the #19 Bass Pro Shops Toyota for Joe Gibbs Racing. Truex won the Xfinity Series championship in 2004 and again in 2005. In 2017, Truex won the Monster Energy NASCAR Cup Series championship.
Racing career
[
]
Truex's father, Martin Sr., was a former champion in the Busch North Series and a successful modified driver. The younger Truex began racing in the Busch North series in 2000 and won 3 races in 3 years with a family-owned team.
Truex made occasional Busch Series starts in 2001 and 2002. Though never a big name, he caught the attention of Dale Earnhardt Jr., who signed him to a contract to join Dale's Chance 2 racing team in 2003. In 6 Busch Series starts for Chance 2, he finished in the top 10 3 times, including consecutive 2nd place finishes to end the season.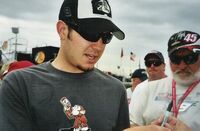 Truex raced full time for Dale Jr. in 2004. At Bristol Motor Speedway, he would earn his first career victory, and he would later add 3 more victories over the next 7 races. This would include a victory at Talladega Superspeedway which broke his car owner's stranglehold on winning restrictor-plate races in the Busch Series, and a victory at the final NASCAR event held at Nazareth Speedway. He took the lead in the championship after Nazareth but lost it to Kyle Busch a few races later. However, a series of top 5's and top 10's in the second half of the season would allow Truex to pull away from Busch, clinching the Busch Series championship with a race to spare.
While on his way to that championship, Truex made an appearance in Nextel Cup as a relief driver to Dale Jr., who'd suffered burns in a sports car accident. Truex started his first career Cup race for Dale Earnhardt Inc. at Atlanta Motor Speedway later that year.
Truex stayed in the Busch Series to defend his championship in 2005, successfully defending the title. He won the first NASCAR race held in Mexico, as well as defending his Busch wins at Talladega and Dover International Speedway. He took his first win at Daytona International Speedway on June 1st, 2005.
Truex's association with Dale Jr., NASCAR's most popular driver, has earned him a large following of his own. This was evident at the 2005 Nextel All-Star Challenge when a fan vote put Truex into the field for the event. Truex scored his first NEXTEL Cup Top 10 at the 2005 Coca Cola 600 when he finished 7th.
Truex ran full-time in the 2006 Nextel Cup season with the #1 Bass Pro Shops Chevrolet for Dale Earnhardt Inc. In early races, he has shown no sign of being overawed by the step up. During the 2006 season, other rookies like Denny Hamlin or Clint Bowyer overshadowed him. But during the season finale in the 2006 Ford 400, Truex led a career-high 27 laps and finished 2nd behind Greg Biffle.
In 2007, Truex also ran full time for DEI. In his first race, the Daytona 500, he was a contender to win the race. After Kurt Busch and Tony Stewart wrecking coming off of Turn 4, Truex relinquished the lead during the caution's pit stops. He held the lead for 13 laps until being passed by Mark Martin who was a sentimental favorite to win the race. Truex was then involved in a crash also involving Dale Earnhardt Jr., Ricky Rudd, and Jamie McMurray. He wound up finishing only one lap down in 29th. In the 2007 NEXTEL Cup standings he was 28th.
Trivia
[
]
Martin rented a home from Dale Earnhardt, Jr. in Mooresville, North Carolina before he purchased his own home.
Martin is an avid outdoorsman (hunting and fishing are two of his passions); he and Earnhardt, Jr. split the cost of purchasing a fishing boat.
His favorite food is seafood.
If he never got into racing he would have worked at his family business "Seawatch" which serves seafood on the New Jersey shore.
He has a very large family
External links
[
]