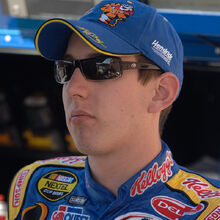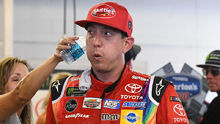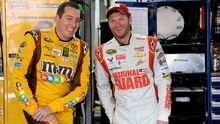 Kyle Thomas Busch (born May 2, 1985) is an American stock car racing driver who drives the #18 M&M's Toyota Camry for Joe Gibbs Racing. He currently has the record for most wins in a season between the three series with 21 wins, which he got in 2008. He also is the only NASCAR driver to win races in two of its national touring series on the same day by winning the Gander Outdoors Truck Series and Xfinity Series races held on February 21, 2009. He is only the second driver to ever win on their birthday, winning on May 2, 2009, his 24th birthday, in the Crown Royal presents the Russell Friedman 400 at Richmond International Raceway. He is the younger brother of 2004 Nextel Cup Series champion Kurt Busch.
Childhood
Edit
Busch's first driving lessons came at the age of 6 when he drove around the cul-de-sac of his family's Las Vegas home in a makeshift go-kart. Although he was too small to reach the throttle, Busch still was able to pick up the basics from his father Tom, who controlled the gas pedal as his young son steered the kart. Throughout his childhood, Busch spent many hours as an apprentice to his father and older brother Kurt in the family garage learning to build and repair race cars. By the age of 10, he was a full-fledged mechanic and served as crew chief of his older brother's dwarf car team.
In 1998, shortly after his 13th birthday, Busch's driving career officially began. From 1999 through 2001, Busch earned more than 65 wins in legends cars as he racked up two track championships at Las Vegas Motor Speedway's "Bullring" before moving to late models. He captured 10 victories in late model competition at the Bullring in 2001.[1]
Early career
Edit
At the age of 16, Busch competed in the NASCAR Craftsman Truck Series for Roush Racing as a replacement after the team's two drivers were released midway in the 2001 season. He led in his second race at Chicago Motor Speedway and was about to win the race, until 12 laps to go when he ran out of gas. He earned two top-10 finishes in six starts in the #99 Eldon Ford F-150 in what was scheduled to be a full-season campaign for 2002.
Busch was the fastest in practice for a 2001 Craftsman Truck Series race at California Speedway in Fontana, CA, when he was ejected from the track by CART officials because the American Racing Wheels 200 was part of a CART weekend featuring the Marlboro 500 CART FedEx Championship Series event. [2] Marlboro threw Busch out of the garage because of an interpretation of the Master Settlement Agreement of 1998, prohibiting persons under 18 years of age in participating in events sponsored by tobacco companies. (The MSA also resulted in the benching in 2006 of 17-year old Grand-Am Krohn Racing driver Colin Braun for three sportscar races held in conjunction with the Indy Racing League because Marlboro sponsored both of Penske Racing's Indy Racing League efforts. In 2008, four full-time USAR Hooters Pro Cup drivers were banned from participating in the Sears Auto Center 150 at the Milwaukee Mile because they were under 18, and the race was held in conjunction with an IndyCar race with Marlboro sponsorship on the Penske cars.)
Six weeks after the incident, NASCAR imposed a minimum age of 18 years starting in 2002 to prevent future incidents from happening again, because Winston was the premier series sponsor at the time. When the age requirements were put in place, Busch switched from NASCAR to the American Speed Association (ASA) series, a Midwest-based racing series. He finished eighth in the championship points for the ASA series.
In 2002, Busch graduated a year early with honors from Durango High School in Las Vegas, Nevada to focus on his driving career. That same year, he made his debut in the ARCA RE/MAX Series at Lowe's Motor Speedway, finishing twelfth in the #22 WP Motorsports Chevrolet. In 2003, Busch signed a driver development contract with Hendrick Motorsports and drove seven races in ARCA in their #87 entry. He won his first two races at Nashville Superspeedway and Kentucky Speedway. He won his most recent ARCA race the following year at Daytona.
He is often nicknamed Shrub since he is the younger brother of NASCAR driver Kurt Busch and a small bush is called a shrub.[3] He is also most commonly referred to as Rowdy Busch after Rowdy Burns in the movie Days of Thunder, as well as Little Busch after the TV series Lil' Bush. Recently Mike Joy coined the nickname Wild Thing as he is always making daring and bold moves on the track.
NASCAR career
Edit
2003-2007
Edit
Upon turning 18, Busch partnered with Hendrick Motorsports to run a set of six NASCAR Busch Series races at selected tracks, running the #87 Ditech.com Chevrolet Monte Carlo for NEMCO Motorsports. During his seat time in that ride, Busch finished a Busch Series career-high second in his first NASCAR Busch Series race at the Lowe's Motor Speedway in May of 2003.
Busch's first full-time season began in 2004, as he competed in the Lowe's car vacated by Brian Vickers, who had moved up to the NEXTEL Cup series. Busch clinched Rookie of the Year honors in the series, receiving his first top-10 finish of the season at the second race in Rockingham, his first pole of the season in the fifth race, and claimed his first victory at the Richmond International Raceway at the Funai 250 in May[4]. Busch went on to claim five wins in 2004, making him the record holder of most races won by a driver in their rookie season.[5], and finished second to Martin Truex, Jr. in the overall points. Busch also qualified for six Nextel Cup races out of nine attempts in 2004 in the #84 Carquest Chevrolet for Hendrick, his highest finish being 24th at California Speedway.
After the announcement that long-time Hendrick NEXTEL Cup series driver Terry Labonte would be running a limited schedule in 2005 and 2006, Busch was picked to take over the #5 Kellogg Company/Carquest Auto Parts Chevrolet Monte Carlo, led by crew chief Alan Gustafson. He won his first career NASCAR Nextel Cup race (now known as Monster Energy Cup) on September 4 in the Sony HD 250 at Fontana[6], driving for Rick Hendrick. At the end of the season, Busch won the 2005 Nextel Cup Rookie of the Year with 2 wins and a 20th place points finish.[7]. The earlier win at Fontana made Busch eligible to become a part of the 20 NASCAR Triple Threats, a group of drivers who have won a race in NASCAR's top three divisions. At the time, he was the youngest-ever winner in the NASCAR Cup Series, at 20 years, 125 days (a mark that has since been eclipsed by current teammate Joey Logano).
Busch returned to the Craftsman Truck Series in 2005 for a limited number of races in Billy Ballew Motorsports's Chevrolet's, winning at Lowe's Motor Speedway, Dover International Speedway, and the fall race in Atlanta Motor Speedway, all 200-mile races. He won his first career Craftsman Truck Series race on May 20, 2005, at Lowe's Motor Speedway[8], driving for Billy Ballew Motorsports, becoming the youngest driver to win a Truck Series race, at 20 years 19 days. In addition, he ran a limited schedule in the Busch Series driving the #5 and #57 for Hendrick. He won at Lowe's Motor Speedway but did not qualify for the race at Texas Motor Speedway, a track he had won the pole at one year earlier.
In 2006, he took the victory in the Lenox Industrial Tools 300 at New Hampshire International Speedway, and qualified for the Chase for the Cup during the last race before the 2006 Chase at Richmond International Raceway, in the Chevy Rock & Roll 400, where he finished second after leading the most laps. He entered the Chase for the NEXTEL Cup fourth in Cup points. Busch started the first race of the Chase mid-pack in the 43 car field at the New Hampshire International Speedway but got caught up in an incident on lap four when he made contact with #66 Best Buy Chevrolet of Jeff Green and knocked the front suspension out of line, eventually spinning out and wrecking the car. Busch followed up the next week at Dover International Speedway with an initially strong run before an engine failure took him out of the race. Busch then went to the Kansas Speedway and led several laps before being caught for speeding on pit road and finished in the bottom half of the top-ten. As a result, he finished the season in tenth place in the 2006 NEXTEL Cup standings, 448 points behind champion Jimmie Johnson. His winnings for the 2006 season summed up to $5,537,337. Busch is currently the youngest driver to make the NASCAR NEXTEL Chase for the Cup. He also became the youngest polesitter in NEXTEL Cup history. [9]
Busch repeated his Lowe's victory in 2006 in a truck painted to resemble the Rowdy Burns car from Days of Thunder, in a tribute to Bobby Hamilton (who was the stunt driver for the character), who was in the midst of a cancer battle which would later take his life. In addition, he ran nearly the entire 2006 season in the #5 Lowe's/Shop-Vac Chevy, winning one race and finishing seventh in points despite skipping one race.
Busch became the first NASCAR NEXTEL Cup driver to win in NASCAR's Car of Tomorrow at the 2007 Food City 500 at Bristol Motor Speedway. He also scored Hendrick Motorsports their 200th NASCAR win (in all series), and also scored Chevrolet's 600th NASCAR victory, the first by the Chevrolet Impala since Wendell Scott's historic 1963 win in Jacksonville, Florida.[10] At the Aaron's 312 Busch Race at Talladega, Busch went on a wild ride down the backstretch when he got turned into teammate Casey Mears' car by Tony Stewart, which was similar to the bump Brian Vickers gave to Jimmie Johnson in the 2006 UAW-Ford 500. The car spun towards the outside wall and flipped onto its roof. The car then slid down the track and hit the turn 3 grass, flipping side-over-side. The car flipped a total of seven times, but Busch walked away unscathed. In the Nextel All-Star Challenge at the Lowe's Motor Speedway, he and older brother Kurt Busch got together, knocking them both out of the race. In June of the season, Busch announced his plans to leave Hendrick Motorsports after the 2007 season. The two sides had been working on a contract extension but eventually agreed mutually to part ways.[11] It was announced the same day that Dale Earnhardt Jr. would be replacing him at Hendrick Motorsports. However, days later Busch stated that he had no idea he was going to be released.[12]. It was announced two months later, that Busch had chosen Joe Gibbs Racing for his team in the 2008 season. He replaced J. J. Yeley in the #18 Toyota Camry, with M&M's coming over from Yates Racing as a sponsor. That season, he ran nineteen races and won four times, garnering a sixteenth-place finish. He also made eleven starts in the #51 Flanders Beef Patties truck.
2008-Present
Edit
Busch's tenure with Gibbs started off with leading the most laps in the 50th Annual Daytona 500 before finishing 4th. He led the most laps (86). He followed that with another 4th place finish in the Auto Club 500. As a result, he took the lead in the points standings for the first time in his career. Busch led 173 of the 325 laps and won the Kobalt Tools 500 at the Atlanta Motor Speedway. It was the 5th career win for Busch and the first Sprint Cup victory for Toyota. Busch had a career-high eight wins and twenty-one top-tens that season. Busch's hopes for his first championship were dashed by two consecutive DNF's at Loudon and Dover, wiping out his 20 point lead and dropping him to 12th in points. However, Busch rallied back with top fives and gained two more spots to close out his first season with JGR 10th in points.
On August 24 at Bristol Motor Speedway, Carl Edwards tapped Busch's rear bumper on lap 470/500 to take the lead Busch had owned for most of the race. After the race, Busch pulled alongside to bump and smash into Edwards repeatedly, to "let him know I didn't appreciate the way he passed me." [13] Edwards responded by spinning out Busch. Busch was called to the hauler after the incident. The following week, NASCAR announced that both Edwards and Busch were being placed on probation for the off-track argument.[14]
In 2008, Busch ran 30 of 35 total races and along with Denny Hamlin, Joey Logano and Tony Stewart helped win the 2008 Nationwide series Owners Championship for Joe Gibbs Racing for the number 20 car. He ran in the series for three different teams and in 4 different numbers, running for Braun Racing's number 32 with Beringer and Dollar General sponsorship, for D'Hondt Motorsports number 92 Toyota with Zippo BLU sponsorship for the Zippo 200, and for Joe Gibbs Racing in the number 18: Interstate Batteries, DLP, Z-Line Designs and Southern Farm Bureau Insurance and number 20 Doosan Infracore, Farm Bureau and Z-Line Toyota. Busch accumulated 4 poles and 20 top tens in his partial season, 18 of which were top 5's, and of those, 10 were history-tying wins which tied the Nationwide series record for most wins in a season with Sam Ard, who had accomplished the feat some 24 years earlier. In trucks, his 2008 season off with a second-place finish in the Chevy Silverado 250 at Daytona International Speedway and followed it up a week later with a win in the San Bernardino County 200 at the newly named Auto Club Speedway (previously California Speedway) in Fontana, California. Two weeks later at Atlanta, he raced to another win in the American Commercial Lines 200. Busch acquired his 2nd Craftsman Truck Series pole for the North Carolina Education Lottery 200 at Lowe's Motor Speedway.[15] His 3rd win of the season was at Bristol Motor Speedway on Wednesday, August 20, 2008.
On February 12, Busch won the second Gatorade Duel at Daytona. This was the first qualifying race win for Busch, allowing him to start fourth in the 51st Daytona 500. Busch led 88 laps, leading the most for the second year in a row. However, he was taken out on lap 125 during the big one when Dale Earnhardt Jr. turned into Brian Vickers' car, starting a chain reaction crash that sent Vickers into Busch's car, wrecking it, and several other lead-lap cars. The following week, Busch made NASCAR history, becoming the first person in the history of the sport to win races in two of NASCAR's touring series in the same day by winning the San Bernardino County 200 in the afternoon and the Stater Brothers 300 in the evening. The next week, he won the 2009 Shelby 427 at Las Vegas Motor Speedway in his hometown. After the race, he and his brother exchanged a long, passionate hug, perhaps signaling the end of their feud. Darrell Waltrip was quoted as saying it was the "sweetest thing he had ever seen". [1] He was the first to win three Cup races in 2009, collecting his third win at Richmond International Raceway. By winning Richmond, Busch joined Cale Yarborough as the only drivers to win on their birthday.
Busch was involved in a violent wreck at the end of the Coke Zero 400 at Daytona. While leading on the final lap, only yards from the finish line, Tony Stewart and Busch made contact, sending Busch spinning hard into the outside wall, nearly flipping over, and then being hit by Kasey Kahne, sending the car up on its nose. Busch took another hard hit in the driver's side from teammate Joey Logano before spinning to a stop in the infield. Stewart won the race.[16]
Busch's 2009 season in the newly-renamed Camping World Truck Series started off much like the 2008 season had. Finishing second in the NextEra Energy Resources 250 at Daytona to Todd Bodine, as they had finished in 2008, Busch then dominated the San Bernardino County 200 a week later at Auto Club Speedway, winning the pole and leading 95 of 100 laps. Bodine finished second - again, the same as the two had finished in this race the year before. The following race, the American Commercial Lines 200 at Atlanta, Busch again won the pole and overcame an ill-handling truck as well as transmission problems to take the lead in the closing laps. Busch was able to hold off Kevin Harvick to win the race for the second year in a row. It was his fourth win in five Truck Series starts at Atlanta. Busch nearly won the 2009 Coke Zero 400 but turned into Tony Stewart's fender, sending him airborne and then into a pack of cars, nearly flipping. This mistake caused him to miss the Chase. Kyle finished 5th at Richmond, but he failed to make the Chase for the Cup. Brian Vickers would get the last spot (12th).
On November 21, 2009, Kyle Busch won his first NASCAR Championship in 2009 while in the Nationwide Series.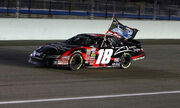 Busch's name has been mentioned in consideration for a seat with USF1 in their maiden season of Formula One in 2010. They are hoping to hire young American talent as the only American team in F1.[17]
On December 11, 2009, Kyle Busch announced the formation of Kyle Busch Motorsports that will field two teams in the NASCAR Camping World Truck Series in 2010. KBM will have two truck teams running in the series. The #18 Toyota Tundra will be driven by Busch part-time, with the remainder of races being driven by Brian Ickler. The second car, the #56 Toyota Tundra, will be driven by Tayler Malsam.
In the 2015 season, Kyle Busch would make the greatest comeback yet after suffering a broken leg at Daytona in the Xfinity race, he would return racing in mid-2015 season winning Sonoma and many more races. Kyle would also make the CHASE FOR THE CUP 2015 and also made the FINAL 4 against 3 cup drivers such as Kevin Harvick, Martin Truex, Jr, and competing in his final start, Jeff Gordon. Kyle would then win his first-ever title in NASCAR after passing Kevin Harvick within 10-100TG at Homestead Miami Speedway.
Kyle Busch Foundation
Edit
According to the KBFoundation Mission Statement, The Kyle Busch Foundation is dedicated to providing essential tools for less fortunate children throughout the country. KBF will concentrate its efforts on assisting organizations in fostering a safe environment for children to live, learn and challenge themselves as well as seeing that day to day needs are met. [18] His foundation sponsors his #51 late model which is driven by Alex Haase. Busch also has personal sponsorship deals in place with NOS Energy Drink and Electric Visual, with both appearing on his late model at one time or another.
During the 2008 season, Busch announced the "Kyle's Miles" program, inviting consumers to go to www.dogsrule.com.[19] Kyle's Miles is a team-up with Pedigree to help dogs in shelters and breed rescue organizations.
References
Edit
Kyle Thomas Busch (born May 2, 1985) is an American race car driver. Currently, he drives the #18 M&M's Toyota Camry for Joe Gibbs Racing in the Monster Energy NASCAR Cup Series. He grew up racing at The Bullring at Las Vegas Motor Speedway. He is often nicknamed Shrub since he is the younger brother of NASCAR driver Kurt Busch and a small bush is called a shrub. He also has been referred to as Rowdy after Rowdy Burns in the movie Days of Thunder, Little Busch after the TV series Lil' Bush.
External links
Edit
Community content is available under
CC-BY-SA
unless otherwise noted.