Kertus Davis from Gaffney, South Carolina was born February 26, 1981 and is a NASCAR driver. He will compete part-time in the Busch Series in 2007, sharing time between Kevin Harvick Incorporated (13 races) and his family-owned team, Davis Motorsports (3 races), the latter of which he has driven since 2002.
Prior to NASCAR
Edit
1998-Davis began racing Late Model Stock Cars in various Southeastern tracks, gaining experience and a handful of top-five finishes
2000-2002-Davis competed as for Rookie of the Year in the USAR Pro-Cup Competing in 20 events, Davis finished the season 17th in points with top ten finishes. In 2001, Davis finished 11th in the Southern Division points standings due to some eight top-ten finishes.
2003-Already running part-time in the Busch Series, Davis ran another full season in USAR. Davis' team celebrated their first win in Smithton, PA and mounted many more top-five and top-ten finishes Davis finished out the year with an impressive 3rd in points in the Northern Division, and a notable 13th overall out of 60 drivers competing in the USAR final championship series.
2004-Davis raced a few more events in the USAR but moved to the Nationwide Series full-time in the later part of the year
Sprint Cup Series
Edit
Kertus tried to qualify the #89 Racing for Jesus/Dutch Quality Stone Dodge normally fielded by Morgan Shepherd for the Sprint Cup race at Richmond in May but missed the field by .009 seconds. After Shepherd sold the team to Christian businessmen, it was announced Davis would pilot the #72 Dutch Quality Stone Dodge in the Coca-Cola 600.
Busch Series
Edit
Kertus made his debut in 2001. Davis made his four 2001 races in the Moy Racing/Means Racing team. His first career start at Nazareth Speedway driving the #52. He started in 34th and finished in 35th, but he did not finish due to ignition failure. In the next two races, he finished 42nd at Dover Downs and 40th at the Milwaukee Mile, but did not finish either race. He made the switch over to the #77 Gestener Ford to the second Dover race, where he finished 34th after a crash.
Kertus made five starts in 2002. He ran the #77 Docutech/Gestetner Ford in his first 2002 race at Richmond. He had the best weekend of his career at that time with a 29th place start and 26th place finish. From then on, Kertus only drove for his father's race team, Davis Motorsports. His debut with this team came at Milwaukee, where he started 31st and finished 32nd. At Darlington, Kertus was running at the end for his first career finish in the 31st position. Kertus then was able to continue to improve at Memphis, where he finished in 24th place would be his best career Busch finish. He also made a start at Rockingham, but finished 41st.
Kertus did not race at all in 2003, but he played a large role as Davis Motorsports began to run full-time in the series. He worked in the shop and every now and then on the pit box, as the team made its first full season.
Kertus raced again in 2004, starting at Indianapolis Raceway Park, where he had a solid race with a 29th place career finish. 27th at Dover and 34th at Darlington were his other finishes.
Davis Motorsports decided that Kertus would be the full-time driver for 2005. With limited funding, Kertus's team would struggle against the well funded NEXTEL Cup Series teams. Kertus did not qualify for five races (Kertus didn't attempt the races at Mexico or Watkins Glen). He did qualify for 28 races, despite some of the heaviest fields in the series' history. He impressed at Daytona, where he was running in the top-15 before mechanical problems relegated him to a poor finishing position. Nine races later at Talladega Superspeedway, Kertus avoided the "big one," and Kertus got his first career Top-10 finish; finishing 10th. Davis finished in 21st place in another restrictor plate race at Daytona. Kertus's best run outside of the restrictor plate races was a 25th at Dover and Phoenix. Armando Fitz, the owner of FitzBradshaw Racing, invited Davis to run his #12 Hot Tamales Dodge at Texas. Kertus did not have a good race, however, finishing 40th with transmission problems. The results did not lead to a full-time ride, and Kertus stuck with his #0 team for the last two races of 2005.
For the 2006 season, Davis is racing on a race-by-race basis. As of April 7, 2006, he has qualified for only half of the 2006 races. The team has launched a "sponsorship for the weeekend" program, allowing small companies to sponsor the car. The team used former Busch Series champion Randy LaJoie to get in the race at Mexico, and will likely use LaJoie later to get in more fields. Also, at Atlanta, MacDonald Motorsports aided the Davis team with MacDonald's pit crew. Prior to the Darlington weekend, it was announced that Kertus was taking over the #34 ride for Frank Cicci Racing, replacing Jason Keller. Morgan Shepherd, who has driven for the team in the past is filling the vacant seat with the #0 team. Davis drove the #43 Ollie's Bargain Outlet Dodge for the Curb Agajanian Performance Group at Dover in an one race deal. At Nashville, he prepared the car for NEXTEL Cup Denny Hamlin. He returned to his own car at Milwaukee.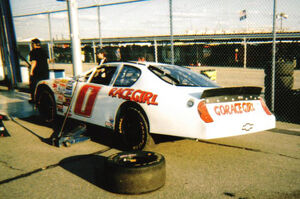 In 2007, Davis will drive for
Kevin Harvick Incorporated
in the #77
Dollar General
Chevy for 13 races, sharing the car with
Bobby Labonte
and
Kevin Harvick
.
External links
Edit