Kenny Wallace (born August 23, 1963) is a NASCAR driver of the #99 Family Farmers/American Ethanol Toyota part-time for RAB Racing in the NASCAR Nationwide Series. He also works as an on-air personality for SPEED Channel, on shows such as NASCAR RaceDay and NASCAR Victory Lane. He is also featured on the show NASCAR Drivers: 360 on FX. He has 2 brothers who are also NASCAR Drivers: Rusty Wallace and Mike Wallace, and a nephew Steve Wallace.
Kenny is the youngest of three brothers, and racing was well known within his household before any of them were old enough to drive. Their father, Russ Wallace was a formidable racer on the local dirt tracks, and it was in part Russ's early success that earned Kenny his familiar nickname, "Herman." Russ won over 400 races in those days, and is often the case in racing, winning a lot made him unpopular among a number of fans. Young Kenny took exception to the unkind words said about his dad, and often took matters into his own hands with whatever means were available, meaning, on at least one occasion, snowcones.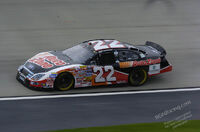 Lake Hill Speedway track promoter Bob Miller noticed Kenny's boisterous behavior and started calling him "Herman," after a mischievous cartoon character named Herman the German. The nickname has stuck through Kenny's rise through the racing ranks.
That rise began as a mechanic for oldest brother Rusty's homegrown race team. They raced across the Midwest on the local circuits and in the American Speed Association ranks, sometimes arriving late for practice on Friday nights because Kenny had to finish high school for the day before the team could leave for the races.
After winning his first race in 1982, Kenny decided that his place in racing was in the driver's seat. Kenny joined the American Speed Association ranks in 1986, winning Rookie of the Year honors that year.
In September of 1988, Dale Earnhardt gave Kenny the seat for his first-ever NASCAR start, in which he finished seventh in the Busch Series race at Martinsville Speedway in Virginia. The following year, Kenny raced the full Busch Series schedule in a car owned by brother Rusty, earning the 1989 Rookie of the Year award and finishing sixth in driver point standings.
Kenny's Busch Series accomplishments include nine wins, ten poles, and eight seasons in the top ten in driver points, with his best being a second-place run in 1991 that ended just 74 points shy of the championship in what is still one of the closest points battles in series history. In addition to his wins, Kenny boasted 58 top-five finishes and 141 top-ten runs in 312 starts, prior to the 2005 season. Kenny has also been voted Busch Series Most Popular Driver twice by the fans, in 1991 and 1994, making him one of only four drivers to have won the award multiple times.
Kenny has over 300 starts in the NASCAR Nextel Cup Series. He has grabbed three poles, six top-fives, and 27 top-ten finishes, including three career high second-place runs. Kenny's most well known finish probably came when he pushed the late Dale Earnhardt to his final Cup victory at Talladega Superspeedway in 2000 in a thrilling last lap shootout. Kenny also has two Budweiser Shootout to his credit. In 1998, Kenny and his brother Rusty Wallace staged a one-two finish on the last lap with Kenny pushing Rusty across the checkers for the win. In 2002 Kenny finished ninth in the Shootout but hasn't qualified for it since.
In addition to the Busch Series, Kenny Wallace had driven a few races in 2005 in the NASCAR Nextel Cup Series. He raced the #00 Aaron's Chevy in the Daytona 500 (Finish: 40th), the #78 Furniture Row Chevy in the 2nd Dover race of the year (Finish: 32nd). He drove the final two races in 2005 in the #97 Roush Racing Ford at Phoenix, for the suspended Kurt Busch, and finished 16th in a car which he didn't even know he would drive until that Sunday morning.
Kenny is most famous for his personality, which often leads to him being interviewed during race coverage. He has a distinct laugh that is often parodied by other drivers. His personality is what has led him to a career in television, which he can continue well after his racing days are over.
Kenny is expected to be a top contender in the NASCAR Busch Series in 2006, having finished in the top 10 for the previous two years.
Community content is available under
CC-BY-SA
unless otherwise noted.