Derrike Cope (born November 3, 1958) is a stock car racing driver in NASCAR. He drives the #99 StarCom Fiber Chevrolet for StarCom Racing part-time in the Monster Energy Cup Series. He also co-owns the team. Cope is still well known for his win at the 1990 Daytona 500.
Beginnings
Edit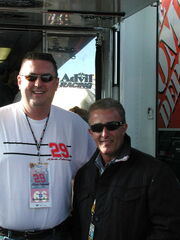 Growing up in Spanaway, Washington, racing was just a hobby for Cope, who was a successful catcher on his high school baseball team, enough that he was recruited by colleges and major league baseball teams alike. But an unfortunate knee injury ended his hopes of big league glory, and Cope decided to devote himself to racing full-time. He soon made his way up through the short tracks in the Northwest, it wasn't long before he made his Winston Cup debut, at Riverside International Raceway in 1982. His #95 car finished 36th after getting an oil leak, and Cope won $625. Cope ran part-time in the Cup series after that, making a brief attempt at Rookie of the Year in 1987. In 1989, he hooked up with Bob Whitcomb to drive his #10 Purolator Pontiac, posting 4-top ten finishes. Cope never would have guessed how much his life would change in the 1990 Daytona 500.
15 Minutes of Fame
Edit
In that race, Dale Earnhardt, who was famous for running into bad luck during this race, led a majority of the race and thought his Daytona drought was over. However, during the last lap of the race, Earnhardt ran over a piece of debris and sustained a tire failure in turn 3, causing him to nearly lose control. In his attempt to save the car from a potential crash, the second place car (Cope) assumed the lead and earned his first win in NASCAR competition.
Derrike also won a race at Dover later in the 1990 season, and wound up eighteenth in points. Following the 1992 season, Cope left the Whitcomb operation and drove the #66 Bojangles' Ford for Cale Yarborough. The car was later changed to #98, reflecting Bojangles "98 menu items". Midway thorough the 1994 season, Cope was replaced by Jeremy Mayfield and began driving for Bobby Allison's #12 Straight Arrow Ford. The next year was Cope's best season, Derrike chalking up eight top ten finishes, and garnering a fifteenth place finish in points.
Struggles
Edit
When Allison's team shut down after the 1997 season, Cope signed on with the fledging MB2 Motorsports operation, driving the #36 Skittles Pontiac to a 27th place finish in points. After one year, he was released and signed on with the struggling Bahari Racing operation. Despite missing some races due to injury, Cope won his first career pole position at Lowe's Motor Speedway, although he failed to post a top-ten finish in the #30 Gumout car.
1999 turned out to be Cope's worst nightmare. His Sara Lee sponsored ride could often be seen packing up and heading home after 2nd-round qualifying, and even when he did qualify, a DNF was the norm. When Cope's performance deteriorated after the team was bought by Jack Birmingham, he was mercifully released from the ride. After making sporadic appearances for Joe Falk and Larry Hedrick Motorsports, Cope signed on to the #15 Ford owned by Fenley-Moore Motorsports. However, Cope became unhappy when the team only ran a part-time schedule, and quit the the team in disgust. He spent the rest of the year on the sidelines, before taking over at Impact Motorsports at the end of the season.
In 2001, he announced the formation of Quest Motor Racing, a team he would co-own with drag racer Warren Johnson. The team didn't qualify for a race all year, and his only start came with CLR Racing. The team had mild success the next year, garnering sponsorship from Avacor and Poison. Cope also ran some races with BAM Racing that year.
After 18 starts in 2003, Cope merged the team with Arnold Motorsports. After several starts, Cope was released from the ride, and as a result Cope took back his equipment. In 2005, Cope tried merging his team again, joining forces with Larry Hollenbeck and Team S.W.A.T. Fitness Racing, but it soon disappeared after Cope failed to qualify for the Daytona 500. Since then, Cope has attempted a couple of races with Ware Racing Enterprises, as well as running a part-time schedule in the Busch Series.
In 2006, he will return to a full schedule in Cup.
In 2008, he was able to attempt a few races, but did not qualify for any.
See also
Edit
External links
Edit