Daytona International Speedway is a superspeedway in Daytona Beach, Florida. It is a 2.5 mile (4 km) tri-oval race track facility with a seating capacity of 101,500 spectators. It hosts races of motor vehicles of various kinds, including go-karts, dirt bikes, motorcycles, sports cars, pickup trucks, and stock cars. The facility also includes a 3.56 mile (5.7 km) road course and a 180-acre infield, including the 29-acre Lake Lloyd. Formula Libre ran there.
Course history
Edit
NASCAR was founded by Bill France Sr. at Daytona Beach, Florida in 1947. The original premiere event in the series was held at the Daytona Beach Road Course. France began planning a new track for the premiere event in his fledgling series in 1953. On August 16, 1954, he signed a contract with city officials to create this new track that would become famous as the Daytona International Speedway. The ground was broken on November 25, 1957. The speedway opened on February 22, 1959, with the first-ever Daytona 500, to a crowd of 41,000 people.
The NASCAR Championship's most important race, the Daytona 500, is held annually at Daytona International Speedway. It is a 200-lap, 500-mile (805 km) stock car race. The list of Daytona 500 winners is very long dating back to the inaugural race in 1959 and includes "The King" Richard Petty, and Dale Earnhardt.
NASCAR, the premier stock car organization in the United States, holds some of its most important races on this track. These include competitions in its Gander RV & Outdoors Truck Series (where pickup trucks are raced), Xfinity Series (the stock car junior league), and NASCAR Cup Series. The Rolex 24 Hours at Daytona is also held at Daytona.
The racing season begins at Daytona starting with the testing sessions. The year's racing begins with the 24 Hours of Daytona race in the Grand American Sports Car series. Then the racing begins for the Monster Energy Cup with the Advance Auto Parts Clash and the Gander RV Duel. The Gander Outdoors Truck Series begins with the NextEra Energy Resources 250. The Xfinity Series begins with the DRIVE4COPD 300, and then it is back to the Sprint Cup in "The Great American Race," the Daytona 500. The Monster Energy Cup also features the Coke Zero Sugar 400 in July at Daytona.
It also contains an attraction called Daytona USA, where the winning car is placed for a whole year.
See also: List of NASCAR race tracks
Deaths at the speedway
Edit
In the history of the Daytona International Speedway (as of 2005), many people have been killed at the speedway. Marshall Teague became track's first fatality, in a practice crash in 1959. Slick Johnson died from injuries in an ARCA race in 1990. Bruce Jacobi, Ricky Knotts, Friday Hassler, and Talmadge Prince were killed in qualifying races. Neil Bonnett and Rodney Orr were killed in practice sessions for the 1994 Daytona 500; Dale Earnhardt; the first person ever to be killed in the Daytona 500; was killed on the final lap in 2001: Ray Paprota struck and killed track worker Roy Weaver in 2004 during the IPOWER Dash Series 150.
Current races
Edit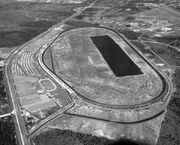 List of Winners
Edit
see list of Winners at Daytona
NASCAR Cup Series Qualifying: Bill Elliott, 42.783 sec. (210.364 mph, 338.548 km/h), February 9, 1987, before restrictor plates.
NASCAR Cup Series Race: Buddy Baker, 285.823 km/h (177.602 mph), February 17, 1980, before restrictor plates.
NASCAR Xfinity Series Qualifying: Tommy Houston, 46.299 sec. (194.389 mph), 1987 before restrictor plates.
NASCAR Xfinity Series Race: Geoffrey Bodine, 157.137 mph, February 16, 1985, before restrictor plates.
NASCAR Gander RV & Outdoors Truck Series Qualifying: Spencer Gallagher, 47.332 sec. (190.146 mph) 2015
NASCAR Gander RV & Outdoors Truck Series Race: Mark Martin, 146.622 mph, February 17, 2006
External links
Edit
Community content is available under
CC-BY-SA
unless otherwise noted.