Casey Lee Atwood (born August 25, 1980 in Nashville, Tennessee) is a NASCAR Nationwide Series of the #05 31-W Insulation Ford/Chevrolet for Day Enterprise Racing. Atwood began racing as a teenager, first in the Nationwide Series #27 Castrol car, and then in the Sprint Series as a member of the Ray Evernham Dodge Motorsports stable.
Career before NASCAR
Edit
At a young age, he became interested in racing. By the age of ten, Atwood was racing go-karts. His early passion for racing later progressed to Late Model Stock racing by the age of 15. He was the 1996 rookie of the year at Nashville Speedway USA.
NASCAR Career
Edit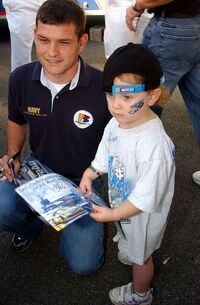 He first appeared on the NASCAR scene in 1996 during a Craftsman Truck Series race, at the age of 16. He would not reappear until 1998, when he raced in the NASCAR Busch Series. He won a pole position at Nashville Speedway USA. He went on to finish second in his first Busch Series race at only the age of 17, making him the youngest driver ever to win a Busch Series pole. By the end of 1998 he had won two poles and 5 top 20's in 11 races.
In 1999, he joined the Brewco Motorsports #27 Castrol team for his first full season in the NASCAR Busch Series. He became the youngest winner in Busch Series History when he won at the Milwaukee Mile at the age of 18. He won another race at Dover and acquired two poles. He finished 1999 with two wins, five top 5's and nine top 10's. He finished 13th in points. 2000 proved to be another good year for him, as he managed to have two poles and 8 top 10's, finishing 8th in points.
He moved up to NASCAR Winston Cup in 2001 in the #19 Dodge Dealers car under Evernham Motorsports, which was a newly formed team under the Dodge banner. He was nicknamed the "Next Jeff Gordon" and was teammate to former Cup Champion, Bill Elliott. Atwood struggled through the year, but improved as the season went on, winning the pole at Phoenix and was in cotention to win the race, before a flat tire ended his day. A week later he was leading with 13 to go, but he got passed by Elliott. Atwood finished 3rd in the Winston Cup Rookie of the Year standings, and 26th in Cup standings.
In 2002, he was moved by his owner, Ray Evernham, into the #7 Sirius Satellite Radio. The #7 Ultra Motorsports team was owned by Jim Smith. Evernham made the #7 jointly part of Evernham Motorsports, forming Ultra-Evernham Motorsports. Atwood struggled through the year, having no top 10's, and finishing 35th in points. With two races left in the season, he was fired by Jim Smith and was replaced by Jason Leffler, and later, Jimmy Spencer. Atwood raced the last race of the year in Evernham's #91 Dodge and qualified 12th, but he finished poorly. Also during 2002, Atwood drove an Evernham ARCA car at Pocono and dominated, winning the race.
By the time February came around in 2003, he was without a ride. He finally got tabbed by Armando Fitz and Terry Bradshaw to drive the newly formed #14 Navy Chevrolet in the Busch Series, as teammate to Kerry Earnhardt, by June. Atwood performed very well, scoring 4 top tens in 14 starts. He also ran two races for Ray Evernham (in Cup) in Evernham's #91 Research and Development car. He raced at Pocono with sponsor Mountain Dew Live Wire Dodge, in which he ran decently until having engine problems. He also raced the same car unsponsored at the Brickyard 400, again finishing poorly.
2004 was a mediocre year for Atwood. He ran full-time for Fitz-Bradshaw Racing. He had problems, but he still had seven top 10's. He nearly won at Richmond but got tapped by Martin Truex Jr. with less than ten laps to go, allowing Robby Gordon to win. Atwood was diagnosed by Fitz of having "a lack of confidence and no aggression on the race track". Fitz hired Flip Flippen to be Atwood's psychologist. Atwood was fired by Armando Fitz and Terry Bradshaw with five races remaining in the season. Atwood was 13th in points at the time, and he fell back to 19th. He also drove an ARCA race for Fitz and finished second.
By 2005, Atwood had no ride. He was picked up by Bobby Hamilton (whom some consider to be like a father to Atwood) to drive the first three races of the Craftsman Truck Series season in the #4 Bailey's Dodge. Atwood ran well during the three race stint. Afterward, he was again without a ride. He would be picked up by a past owner, Ray Evernham, to drive the Hungry Driver's Dodge in four races. The four races would be eventful for Atwood as he ran well and gained on top 10.
He married longtime girlfriend, Laura, in 2005. Atwood and Laura had a child named Kaylee in September of 2005.
For the 2006 season, Atwood remains without a ride, though he will supposedly practice and qualify J.J. Yeley's Busch series entry when Busch and Cup dates do not line up. Atwood is to attempt Homestead in the #95 for Stanton Barrett Racing which will be his first race since 2003.
Controversy
Edit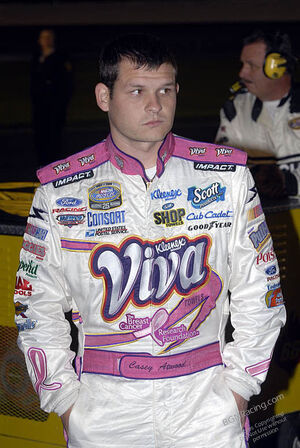 Many of Atwood's fans believe that it was unjust for Evernham to put Atwood into the #7 in 2002 after running very competitively at the end of 2001. They believe that the #7 ruined Atwood's career. They say that the #7 Ultra Motorsports team never performed well since its existence, and Atwood did the best he could with the equipment he had. They also compare Mayfield's first season in the #19 with that of Atwood's, where they both finished 26th in the points. Fans say that Atwood did not get enough time with the #19 team, and if he did, he would have won races and performed well.
Fans also believe that Armando Fitz and Terry Bradshaw had no good reason to fire Atwood when he was in the #14. Fans were angry at Fitz when he said his reason for firing Atwood was that he was not performing, while he was 13th in points, but his teammate Tim Fedewa was 17th in points. Fans also criticize Fitz because Fedewa had more than five crew chiefs in 2004, while Atwood only got one, Jay Guy before he was released. Most fans say Fitz fired Atwood because of money, pay checks, and Dodge (who later became the new car type of Fitz-Bradshaw Racing). Dodge may have still been unhappy with Atwood since 2002. Others say Atwood was fired because Fitz wanted to form relationships with Chip Ganassi's cup team (Ganassi was Fitz's father-in-law) by putting David Stremme into the #14 car. On the other hand, other NASCAR fans say Atwood had his chance at the cup, and that he moved up too quickly at a young age. These fans say he simply failed to perform.
External links
Edit