Carl Michael Edwards II (born August 15, 1979) is a retired American stock car racing driver. He last drove the #19 Arris Toyota Camry for Joe Gibbs Racing in the NASCAR Monster Energy Cup Series.
Edwards was born in Columbia, Missouri. He grew up watching his father, Carl, Sr., race and was inspired to do the same. Carl, Sr. has been racing modified stock cars and USAC midget sprint cars for over four decades, winning over 200 races. Carl, Jr.'s career began in 1993 when he started racing four-cylinder mini-sprints at age 13. His success was not far off, as in 1994, he won four feature races in the mini-sprint series at tracks in Missouri and Illinois. He added a combined total of 14 wins from the 1995 and 1996 seasons.
Edwards switched to dirt in 1997, racing in the IMCA modified division. It didn't take him long to find success there, either, as in 1998, he was crowned Rookie-of-the-Year in that same division at Holt Summit, Missouri's Capital Speedway. In 1999, he won 13 races in the track's Modified division, winning the NASCAR Track Championship.
Edwards' big break came in 2002 when he competed in 7 NASCAR Craftsman Truck Series events for MB Motorsports. His best finish in the seven races was 8th. However, it was enough to impress Jack Roush, and Edwards became a full-time Truck Series competitor in 2003, driving the #99 Ford F-150 sponsored by Superchips. He won Rookie-of-the-Year honors in addition to three race wins, eventually finishing 8th in the points standings at the end of the season. In 2004, he notched three more race wins, including the season-opening Florida Dodge Dealers 250 at the Daytona International Speedway. At season's end, Edwards finished 4th in the points. In August of 2004, he made his Nextel Cup Series debut, replacing Jeff Burton, who left the team, in the #99 Ford Taurus for Roush Racing, at the Michigan International Speedway. He finished 10th.
In 2005, Edwards became a full-time driver in both the Nextel Cup and Busch Series. He has already won races in each, and he made history in the process of winning. On March 19, 2005, Edwards won the Aaron's 312 at the Atlanta Motor Speedway in Hampton, Georgia, recording his first Busch Series win. The next day, he beat Jimmie Johnson by 2-hundredths of a second to win the Golden Corral 500 at the same track for his first Nextel Cup Series win. Until this took place, no driver had ever won both the Busch and Nextel Cup Series races in the same weekend at Atlanta, although the feat had been pulled off numerous times before at other tracks by other drivers. Also, Edwards became the first driver in NASCAR history to pick up his first career Busch and Nextel Cup Series victories in the same weekend.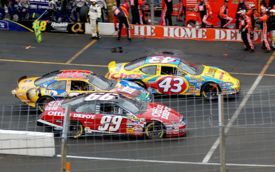 On June 12, 2005, Edwards picked up his second Nextel Cup win by taking the checkered flag at the Pocono 500 at the Pocono Raceway in Long Pond, Pennsylvania. The weekend was somewhat bittersweet for Edwards, as the Busch Series race at the Nashville Superspeedway in Lebanon, Tennessee had been rained out the night before, and rescheduled for the same day. Even worse, qualifying for that race had been rained out, too, and in NASCAR, when qualifying is rained out, the starting grid is set by owner points. Through this process, Edwards was awarded pole, but Hank Parker Jr. ended up driving the car to a 20th place finish.
Edwards got his third win of 2005 on October 30 in the Bass Pro Shops MBNA 500 at Atlanta Motor Speedway.
Edwards got his fourth win at Texas and becoming the tenth different driver to win there and the fifth win there for Roush Racing. As of June 15, Edwards best 2006 finish was at Lowes Motor Speedway in the Coca-Cola 600 where he finished 3rd.
Edwards is most popular among fans for celebrating his wins by doing a backflip off his car (or truck), a style of celebration he took from sprint car driver Tyler Walker, although Walker would run to gain enough momentum to do backflips because a sprint car just isn't big enough to stand on. Edwards has competed against Walker in 2005, as Walker formally drove the #38 Akins Motorsports in the Busch Series. Seizing on the popularity of Edwards' trademark celebrations, Ford has recently run several "Overactive Adrenaline Disorder" commercials featuring a "young Carl" performing backflips in his baby crib and on the couch.
D*uring the week of the Auto Club 500, Edwards participated in the taping of the Fox television series 24, where he played Homeland Security Agent Jim Hill.
Edwards made his appearance on the February 22, 2006 episode of The Late Late Show with Craig Fergurson.
Community content is available under
CC-BY-SA
unless otherwise noted.