The Auto Club Speedway (formerly the California Speedway) is a two-mile, low-banked, D-shaped oval superspeedway superspeedway in Fontana,_California Fontana, California, approximately 40 miles east of Los_Angeles Los Angeles on the site of the former Kaiser_Steel Kaiser Steel mill. It is a relatively new race track, opening in early 1997 and has additional configurations and facilities to accommodate "road" races, motorcycle races, vehicle testing, and drag_racing drag races (Auto Club Dragway), even though the track cannot host NHRA NHRA national events, because of International Speedway Corporation's corporate-wide deal with Pepsi. (The NHRA has a policy prohibiting certain Pepsi brands to be advertised anywhere at their national events as part of a deal with Coca-Cola.) This racetrack is a stones-throw from the old Ontario Motor Speedway and the old Riverside International Raceway. After Riverside's closure in 1988, Southern California did not host a NASCAR race from 1988 to 1997 when the new California Speedway was opened.
In addition to NASCAR, the raceway has also hosted open-wheel events from both Champ_Car CART and the IndyCar IndyCar. In 1999, Canadian driver Greg_Moore_(racing_driver) Greg Moore was killed in a crash at the track, resulting in a major overhaul of the backstretch for safety (it was discovered Moore's car slid in the grass off Turn 2, allowing the car to overturn, and cause the fatal crash; following that, ISC, which had purchased the track, paved that section of backstretch apron in time for the 2000 NASCAR event to prevent cars from sliding in that section, and to allow for drivers to have control of the cars in an incident); in 2003, the Indy Racing League set the highest average speed for any circuit event in motorsports. On February 21, 2008, the name was changed to Auto Club Speedway.
Like many modern oval tracks, Fontana also features an infield road-course, which has been used by the Grand_American_Road_Racing_Association Grand American Road Racing Association and by the Japanese_Grand_Touring_Car_Championship Japanese Grand Touring Car Championship, with the JGTC race being unique in the fact it was a night race.
The circuit is often used for television commercials.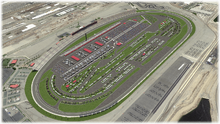 Community content is available under
CC-BY-SA
unless otherwise noted.