Atlanta Motor Speedway is a superspeedway in Hampton, Georgia, USA, 20 miles (32 km) south of Atlanta. It is a 1.54-mile (2.48 km) quad-oval track with a seating capacity of over 71,000. It opened in 1960 and added 46 condominiums over the northeastern side of the track in 1994. The track was almost completely rebuilt in a project that was completed in 1997, becoming one of NASCAR's fastest tracks in the process.
Other highlights of the facility are a quarter-mile track between the pit road and the main track for Legends racing and a 2.5-mile (4 km) FIA-approved road course. In 1994, the speedway hosted the Countryfest concert, attracting over 200,000 fans.
For most of the 1990s and 2000s, the track has boasted the highest speeds on the NASCAR circuit, with a typical qualifying lap speed of about 193 mph (311 km/h) and a record lap speed of over 197 mph (317 km/h). In 2004 and 2005, the similarly designed Texas Motor Speedway saw slightly faster qualifying times, but as the tracks' respective racing surfaces have worn, qualifying speeds at Atlanta have again become consistently faster than at Texas (2005 and 2006).[1] The circuit has two tracks, the longer Talladega Superspeedway, and Daytona International Speedway, that were once much faster than Atlanta, with lap speeds usually exceeding 200 mph (322 km/h), but restrictor plates were mandated for use on those tracks in 1988 after Bobby Allison's violent crash at Talladega the year before, reducing average lap speeds to about 190 mph (306 km/h). NASCAR does not currently require restrictor plates in Atlanta.
In early September 2004, AMS found an unexpected use: as a shelter for evacuees from Florida fleeing Hurricane Frances. While there were no indoor facilities available, visitors waited out the extremely slow-moving storm parked in their recreational vehicles, after creeping along for hours in traffic on nearby Interstate 75.
In 2005, the speedway received heavy damage on the evening of July 6, caused by an F2 tornado spawned from the remains of Hurricane Cindy. Roofs and facades were torn off buildings and the track was covered in debris from the tornado, which the National Weather Service confirmed the next day to have had winds of 120 to 150 MPH (195 to 240 km/h). A 50-foot (15-meter) scoreboard tower was knocked down, and others were leaning over, as were many tall lamp posts. Several units at the speedway condominiums were damaged. (Five of the 48 units are regularly occupied.) Everyone managed to get out safely, and there were no injuries reported, in large part because it struck late (9:30 PM) on a non-race night. Officials estimate the complex suffered 40 to 50 million U.S. dollars in damage, which may or may not include the Tara Field airport next to it. Despite this, it opened in time for the next major race.[2] [3]
The damage was severe enough for the track, however, to demolish the main Weaver and Ford Grandstand which had stood in place from its 1960 construction; a smaller (13,000 seat) grandstand on the front stretch (known as the Winner's Grandstand) was added, but the track is removing seats, as sellouts have been rarer since the track lost its prestigious championship decider.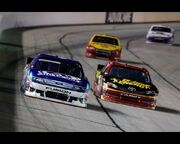 In 2009, the track's October Camping World Truck Series race was given to Chicagoland Speedway.
In 2011, the track lost its March race, and it was replaced with a Summer race at Kentucky Speedway.
In 2013, the track's Labor Day Weekend Truck Race moved to Canadian Tire Motorsport Park.
Community content is available under
CC-BY-SA
unless otherwise noted.