Ashton Lewis from Chesapeake, Virginia was born January 22, 1972. Educated at the Sears Point Raceway, California, road racing school.
Lewis drives the 25 Marines/Pioneer Services Ford for Team Rensi Motorsports in the NASCAR Nationwide Series.
Busch Series Career
Edit
Lewis Jr. made his Busch debut in 1993, long before he became known to most Busch fans. Driving the #36 Parkway Pontiac at Watkins Glen, Lewis started the race in 29th place. The team had mechanical issues partway through the race, but Lewis got back on track and finished the race in 27th place.
Lewis returned once again to the series in 1994. This time, Lewis drove the #80 Commerce Bank Chevy at Milwaukee Mile. Lewis was able to top his debut with a 24th-place effort, despite a 38th place start.
Lewis again made a one-off start in 1995. He had his best weekend at that point in his career, this time back at Watkins Glen. He started the race solidily in 22nd position, and stayed on the lead lap with a 13th place finishing result.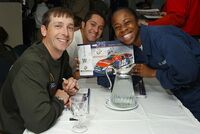 Lewis disappeared for two years, but he made an eight-race effort in 1998. His first race was once again at the Glen. It went extremely well to say the least. Lewis earned a 3rd place finish, a career best for six years. Lewis also led three laps, the first of his career. That run was very solid, and it earned Lewis a mid-season ride with the #89 Eckerd Chevy. Sadly, that low budget team did not do well with Lewis and it did not materialize into anything further. The best run was in fact a 23rd at Darlington.
Lewis went of the radar for 1999, but came back in 2000, with a new family owned #46 Chevy, which Lewis would run for five years. In fact, this time, Lewis had his brother, Charlie Lewis, at crew chief, a position that Charlie still holds to this day with his brother. Lewis made an 11-race schedule in 2000. Lewis' best finish in 2000 was a 17th at Michigan. However, Lewis also had three other top-25 finishes. In addition, Lewis set his career best start to that time of 11th at Darlington.
With a decent first year under their belt, Lewis Motorsports ran all but one race in 2001, leading to a 20th place standing in points. Lewis earned three top-10s in 2001: A pair of fifths at Kentucky and Charlotte and a ninth at Memphis, an impressive feat without a full-time sponsor. Lewis earned his best start of 2001 at Las Vegas, with a 5th place starting position. However, Lewis struggled to finish races, and had nine DNFs.
Yet, the team was optimistic. The team would run 2002 with new sponsor Civil Air Patrol. Lewis only had one top-5, but it was a solid one. Lewis started 24th at his home track of Richmond International Raceway, but certainly ran well, moving to a 2nd place finish. In addition, Lewis earned a triplet of 8th and another triplet of 9th. Lewis was also qualifying well, with 5 top-10 starts, the best being a 3rd at IRP. The only reason that Lewis finished a lowly 17th was simple: a series-high 12 DNFs.
Lewis set out to better his season in 2003, and did it well. Cutting down his DNFs to five led to a 12th place finish in points. The highlight of his season came at Gateway. He won the pole and led forty-four laps and was running fifth when Randy LaJoie crashed in front of him and led to a 33rd place finish. However, Ashton did have better overall finishes. He had two top-5s with a 3rd at Nashville and a 5th at Homestead-Miami. Lewis also tacked on eight other top-10 finishes, to have ten top-10 finishes in 2003.
The team lost CAP after 2003, however, and the team could not attract a sponsor for 2004. The team would end up running the whole season, but Lewis' family team had to shut down following the season. Yet, Lewis made one great swan song at the end of the season. A late season surge put Lewis in position to win races. That was apparent at Darlington, where Lewis ran a specially painted tribute car to a second place finish, barely losing to Jamie McMurray. Even though there was some sadness in the team's hearts, Lewis finished 8th place in points, his first career top-10 showing.
Yet, Lewis' Cinderella story led to a new ride. Lewis would drive the solid #25 Marines Ford in 2005. The team had almost won the championship with Bobby Hamilton Jr. in 2003. Yet, 2005 did not go so well. He had a solid start, with four top-10s including a 4th at Talladega. He was even running fifth in points a third of the way into the year. However, the horseshoe fell out of Lewis' pocket in the rest of the season, with his only top-10 being an 8th at Charlotte. The summary of the season seemed to be a last-place finish in 2005's final race at Homestead-Miami.
Looking at 2006, it has been a so-so year for Lewis. He stayed with his team in hopes of getting better finishes. The team has struggled to this point, with a best finish of 5th at Kentucky. Lewis lost his brother, Charlie, as crew chief and it is highly unlikely Lewis will be back with the team in 2007.
External links
Edit
Community content is available under
CC-BY-SA
unless otherwise noted.