The 2006 Sharpie Mini 300 was a NASCAR Busch Series race held at Bristol Motor Speedway. It was won by Kyle Busch.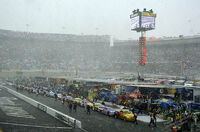 Practice was delayed until Saturday morning because of snow at the track. Mark McFarland and Scott Riggs paced the only practice on the day.
Brad Teague ran six laps in a second Davis Motorsports Chevy before backing it into the wall. The team did not have a backup and withdrew. He was the only car to have an incident.
Twelve cars made their laps, before snow, which had plagued the series all weekend returned. This was the heaviest snow the of the day, and Kevin Harvick was declared the pole sitter after qualifying was snowed out.
Those who did not qualify were: Teague, Shane Hall, Caleb Holman (making debut for #75 Henderson Motorsports team) and Jerry Robertson (running for MacDonald Motorsports)
Harvick started from the pole and simply put was dominant throughout the race. However, he was challenged early by Stephen Wallace, who led for three laps (3-5) before Harvick came back and took the lead. The first caution came out as Kevin Conway smacked the wall in Turn 3 eight laps into the race.
Debris caused the second caution on lap 22. However, Scott Riggs runs over Stephen Wallace coming to the caution and Wallace is doomed to a 33rd place finish. Then, four laps after the restart Todd Kluever got turned around. Even worse, the red flag was displayed for 1:19:02 for snow. However, the track crews cleaned up the area and the race went ahead on lap 39 after the sun came out.
On lap sixty, Ken Schrader wrecked Burney Lamar in turn two and began the pit strategy. Four drivers, led by Michael Waltrip stayed out. Waltrip would lead the next twenty-three laps before Harvick, who restarted 5th flies by.
The next caution flew as Regan Smith wrecked Joel Kauffman on lap 98. Another caution falls for debris fifteen laps later.
The next caution of the day comes at Mark McFarland, Matt McCall and Mike Bliss have a fiasco on lap 129. McCall would spin again fifteen laps later. This caution would prove the turning point on the day. Kevin Harvick, thinking he had a flat tire pitted a second time, and Denny Hamlin claimed the lead. Harvick's tire problems were really a tearoff that had gotten stuck on the tire. Harvick, however, stayed on the lead lap due to the caution, and after the restart made his way through the field.
Hamlin is passed by Greg Biffle on lap 176, and Biffle leads after caution fell on lap 194. Jason Leffler, who had been running fourth, cut down a right-front tire and smacked the wall. Carl Edwards stayed out while most of the field came in to Pit Road. Edwards does a good job on old tires, and began pulling away, while John Andretti fell back with his old tires.
Matt Kenseth and Kyle Busch, running third and fourth, made contact on lap 226, and the caution feel for that. (Also, Leffler had cut down a tire again). Two more cautions quickly followed. Ashton Lewis Jr., who had been wrecked earlier in the event, lost control and was collect by Regan Smith, Paul Menard, J.J. Yeley and Chris Wimmer. Then, Reed Sorenson and Clint Bowyer crashed on the restart.
Biffle finally passed the worn tires of Edwards on lap 260, but Edwards got another shot after Kleuver wrecked again on lap 269. However, Edwards begins to fall back and Biffle faces new challengers in Kyle Busch and Matt Kenseth. Biffle is able to keep the charging Busch at bay until he has a flat tire and is forced to pit with eleven to go. However, Busch wasn't in the clear. Kevin Harvick got past Matt Kenseth and closed as the laps wound down. However, Busch held off Harvick by .559 seconds in route to victory.
1) Kyle Busch 2) Kevin Harvick 3) Matt Kenseth 4) Denny Hamlin 5) Carl Edwards 6) Scott Riggs 7) Ron Hornaday 8) Kenny Wallace 9) John Andretti 10) Johnny Sauter
1) Kevin Harvick (2nd) 2) J.J. Yeley (29th) 3) Denny Hamlin (4th) 4) Clint Bowyer (12th) 5) Carl Edwards (5th) 6) Johnny Sauter (10th) 7) Burney Lamar (20th) 8) Jon Wood (17th) 9) Jason Leffler (32nd) 10) Jamie McMurray (DNS)
Chris Wimmer made the race. He had not made any of the races in 2006, but the snowout and owner points gave him a 42nd place start.
Mike Bliss made his first start for Frank Cicci Racing. The team had no sponsorship and had fallen out of the top 30 in points. So Cicci hired Bliss for some consistency.
Community content is available under
CC-BY-SA
unless otherwise noted.